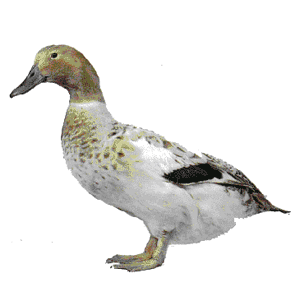 History
Abacot Rangers were developed between 1917 and 1923 by Oscar Gray and often referred to as the Hooded Ranger in older books. Abacot's were introduced into Germany in the 1920's and is one of the few breeds where the breed standards are virtually unaltered today. A reasonable layer and sitter with a differing bill colour in males and females similar to the Appleyards etc . . .
Characteristics
n/a
Breed Tips
Keep as a trio or a pair.
Easily confused as a duckling with mini Appleyards and Harlequins . . . easiest difference . . . they are the greediest/largest until full feathering shows the difference.
Purpose
Dual / Broody
Classification
Origin
Great Britain
Egg Color
White
Breed Club Secretary
Ducks come under the brief of:
· The Domestic Waterfowl Club of Great Britain
· The British Waterfowl Association
Egg Numbers
180 / 200 per annum