Best Small Chicken Coop For Up to 6 Chickens
Omlet Cube Coop (run can be added)

OverEz Small Coop (run can be added)

Omitree Deluxe Coop (no run)

Pets Imperial Arlington Coop & Run 
Best Large Chicken Coop for over 6 Chickens
Best Plastic Chicken Coop
Best Plastic Chicken Coop
If you don't have a plastic chicken coop yet then you don't know what you are missing out on – seriously! 
Plastic chicken coops are:
Well insulated 

Long lasting

Safe and secure from predators

Rot proof

Free from lice and mites

…SUPER EASY TO CLEAN!
If you are thinking about buying a plastic coop, before you do anything, take a look at an Omlet Chicken Coop.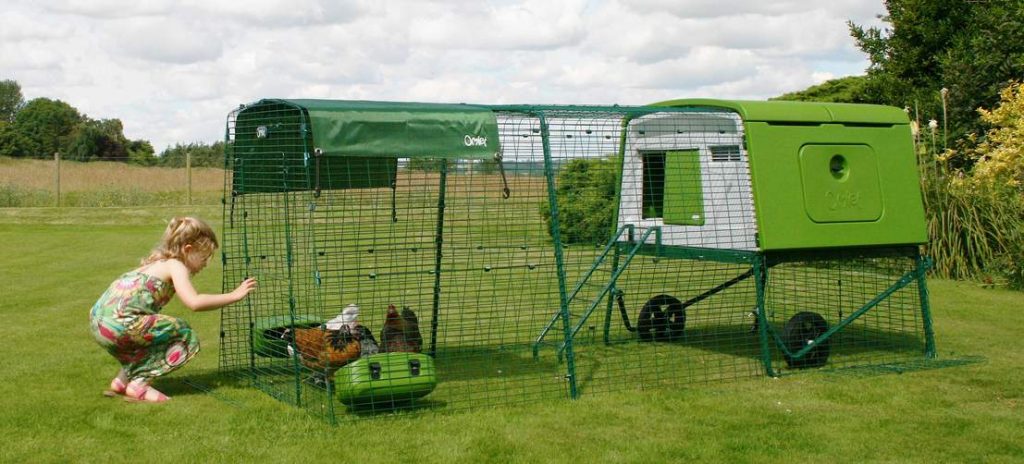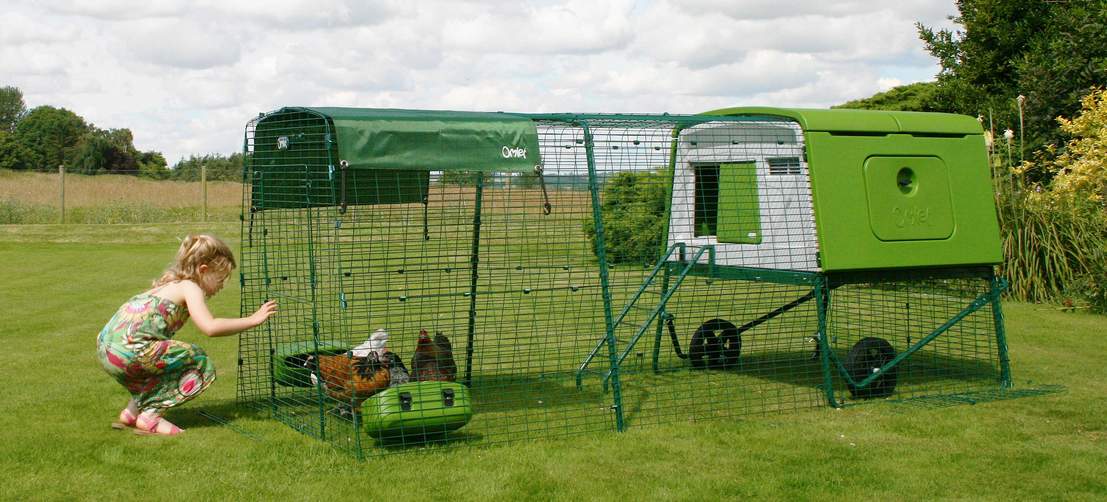 They hands down beat the SnapLock chicken coop (read our vs review here) because they are better made, have far better reviews and are actually cheaper! Plus they have a purpose built run and the SnapLock coop has nothing. 
All Omlet chicken coops come with these benefits not offered anywhere else:
30 Day Money Back Guarantee 

17,000 5 Star Reviews

2 Year Warranty (seriously!)

Heavy Duty Steel Chicken Run with Anti-Tunnel Skirt

Add Wheels To Make A Chicken Tractor

Awesome Modern Design
Why Buy An Omlet Chicken Coop?
First up, I have to talk about the cleaning. If you currently have a wooden coop now then you will be jumping for joy, cleaning this plastic chicken coop is super simple. It has a pull out litter tray, again that's plastic, so all you do is slide that out, wipe it down then replace it. It takes seconds.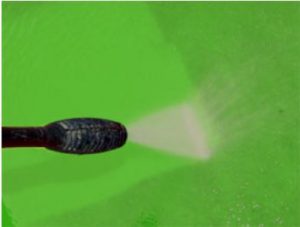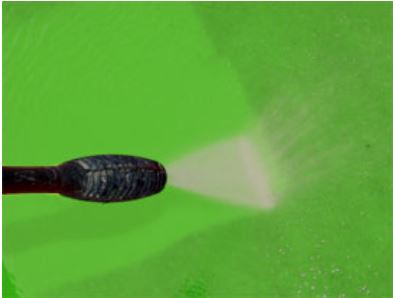 Infact you can even pressure clean the whole coop if you wanted too and have it dry again in just minutes. All the surfaces are smooth so everything can be easily wiped down – its a game changer!
Compare that to cleaning a traditional wooden coop where you have to brush everything out, getting into all the nooks and crannies its just a pain. 
If you have ever had red mite then you will know how tricky they can be to get rid off with a wooden coop. This is because most lice and mite actually dont live on the chickens they hide in the cracks of coop. This is made worse with wooden coops as they have so many splits and cracks which act as the perfect 'hidey holes' for mites. So even if you manage to get all the mites off the hens there are more hiding in the coop. It's a painstaking process to get rid of red mites but it can be done.
The point I want to make is there is no guarantee that you won't get any mites or lice if you buy a plastic coop, I think most coop manufacturers maybe over emphasizes this point BUT they are SO MUCH EASIER to get rid of in a plastic coop, if you do get them. 
It comes back to my point about cleaning, you can thoroughly clean an Omlet chicken coop and totally remove the mites, there is nowhere for them to hide. 
Last but not least the coop is designed with twin wall insulation meaning your hens are warm all winter but it has adequate ventilation for summer to keep them cool too. It's an important point as chickens can suffer dire consequences from heat exhaustion. 
Add in the fact these coops have the best runs in the business and this coop should be top of your list. 
Ooo and they actually quote themselves as saying "they have the best automatic chicken coop door in the world" a big claim but definitely backed up.
Shop the Omlet Chicken Coop Range here directly www.omlet.us
Best Large Chicken Coop OverEz Chicken Coop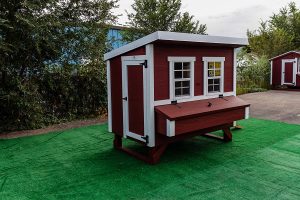 Features:
Suitable for up to 15 chickens

2 Screened windows

5 Nesting boxes 

2 Vents 

2 Roosts 

1 Main door  

1 Wood ramp 
Walk in chickens coops are generally larger and that makes them much easier to clean out. Being able to get inside with a brush and simply sweep out the droppings and any bedding will make life so much easier and makes cleaning alot faster. Who wouldn't want to save time on their chores!
Top Tip: rig up a piece of hanging material underneath the roost bars to catch the droppings. Then when you come to clean the coop, all you need to do is unattach this and shake it off outside. It will save time and persevere the wood underneath the roost. 
Why buy THIS chicken coop? Good question allow me to explain:
 It is American made and manufactured with high quality natural (pine) wood flooring. This is important as the floor and roof of any chicken coop takes the biggest beating. The floor will often get wet from their feet during winter meaning it's got to be super hard wearing and ofcourse it's got to be tough enough to withstand droppings which over time can degrade lesser more inferior woods. This coop has a resin treated floor to deal with moisture too. This is a big tick in the right box. It also uses non toxic, eco friendly paint to help keep it fully waterproof. 

Predator proof – being well designed and well made, using the best materials means it's completely predator proof. The windows which provide ample ventilation in those hot summer months have fly screens over them, meaning nothing can climb in without your permission. And everything is lockable, not only in the closed position but in the open position too. This means the chicken door can't close accidentally in the wind during the day and the lid on the nesting box will lock open whilst you are collecting the eggs. Its all these little features that combine to put this coop at the top of list for good reason.
See all the amazing add ons along with the different runs sizes offered by OverEz here
OverEz manufactures chicken coops for 5, 10, 15 & 20 chickens, so no matter the size of your flock you can always get a solid, predator proof coop from them.
Best Small Chicken Coop (For Up To 6 Chickens)
Take a look firstly at the Omlet Cube for up to 6 chickens or the OverEZ chicken coop for 5 chickens. 
If neither of those take your fancy then these 2 coops are probably the next best thing, when you account for all factors.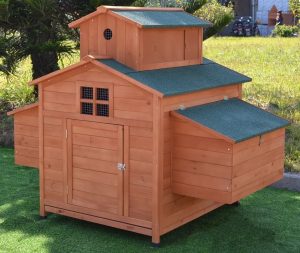 We like this, as unlike other coops around the same price, it's constructed from solid wood (Fir). Also all the joints are mortise and tenon so it's well thought out and has been constructed in the best way possible for the price point.  
The next bonus point is the roof; its not bare exposed wood, which could require lots of maintenance (sanding and varnishing) its asphalt. Whilst this isnt bomb proof like a plastic roof its better than having exposed wood, provided the rain can drip off the edges and not get under the asphalt. 
Other Features:
1 x Slide front access chicken door

1 x Rear hinged door 

1 x Ventilation window with zinc wire mesh 

2 x internal perches

Nesting boxes with removable roof on side

Ramp so your chickens to get in and out

Heavy duty metal bolts

Zinc rear pull out tray for easy cleaning
What we like about this coop…
It would be easy to retrofit an automatic chicken door on this model. Also we like that it sits just off the floor meaning that the bottom isn't touching the ground so it will keep dry and free from moisture and therefore any rotting. 
The design is good with a spacious and airy roof making it perfect for hotter climates too. All in all a good coop for anyone free ranging but a run could be fitted to one side of the coop. Or the whole coop could be housed within a walk-in run. 
Best Chicken Coop Run
Omlet Chicken Runs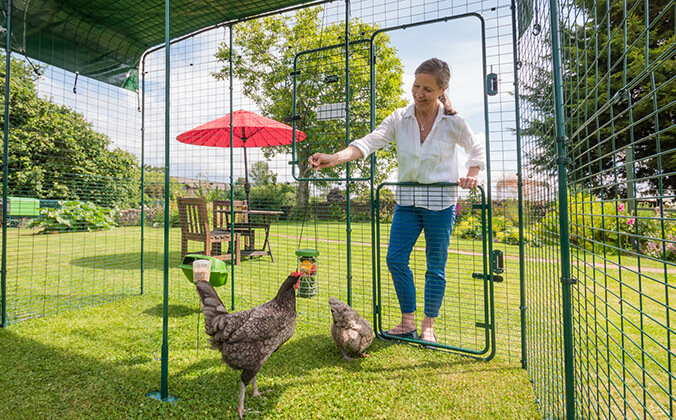 Omlet have the best chicken runs in the business. Omlet has runs specifically designed runs that can attach straight onto their coops. But they also sell a really popular walk in chicken run, which can be combined with or without an Omlet coop. 
So if you want a chicken coop and run then check these examples here
If already have a chicken coop and you are just looking for a chicken run, well, look no further too! 
They have the best runs in the business for these reasons: 
Build Quality – no one even comes close to having the same levels of build quality, which not only just provides exceptional longevity but also superior safety. Two aspects which are paramount when considering which chicken run to buy. The run is made from a high density steel welded (not just twisted like ordinary chicken wire) mesh.

Predator Proof – The runs superb built quality (and design) makes it completely predator proof. Nothing can get in or out without your say so. To add to this the run comes with an 'anti-dig' skirt. This skirt runs flat along the bottom on the ground, outside the run and means nothing can dig underneath the run and gain access either. These levels of security and safety will bring peace of mind not just to you but also your chickens and happy chickens lay the best eggs, that's a fact.

Extendable (Flexible Run Sizing) – the runs are available in a variety of different sizes and are totally customizable. Meaning you can buy one to custom fit your backyard space or for the exact amount of space you wish to give your flock. 

Extras – such as – walk in stable style doors as standard. Automatic chicken doors if your plan is to free range them. The ability to partition areas off for if you are introducing new chickens to your flock. All weather protection covers to provide shade or keep the run dry from the rain. Toys like chicken perches, swings and toy holders. Plus plenty more benefits…
Shop the Omlet range of chicken runs at www.omlet.us
*What NOT to Buy – 3 TOP TIPS*
Anything that can be used or is sold as suitable for rabbits aswell. Generally speaking here, the two should be mutually exclusive. Chickens are very different to rabbits and have different needs, ventilation wise, insulation wise and space wise. Both space laterally and with head room. 

The type of wood used in construction plays just about the biggest factor in the coops security and longevity. Avoid softwoods and anything without a resin treatment. They will rot within 18 months and don't provide correct breathability that leads to moisture build up. Chickens are prone to respiratory problems, so please bear that point in mind.

Avoid any coop and run that is stapled at the edges to join two bit of wood together. The structural integrity of staples do not last long and you will find yourself doing constant DIY to the coop. You will typically find this with cheaper coops as staples cost less than screws or bolts.
For more information about chicken breed varieties or breed standards please visit the American Poultry Association website www.amerpoultryassn.com