We own a 400 acre farm and do about 40 hours mowing a week (average) across the season. So if you are looking for a really hands-on practical review of the best residential and commercial zero turn lawn mowers then you are in the right place.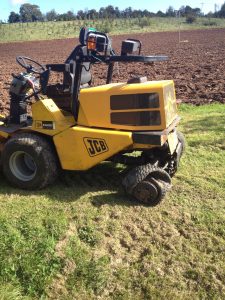 If you want that 'professional' landscaped look, cut with ease, then you need a zero turn mower – there is nothing better on the market for speed.
I don't do 'unboxing' reviews – this is a 100+ hour review of zero turn mowers AFTER years of owing them. 
Beware of anyone telling you 'this' or 'that' is the best zero turn mower. To coin an old phrase, it's horse for courses. Meaning, what works best for one, might not be best for another. 
Questions you need to ask yourself before committing to buying are:
1. How much grass do I want to mow? ½ acre, 5 acres or 25+? 
2. How quickly do I want to mow it? The difference between upgrading the deck size to a larger size could be thousands but an extra few inches on the deck over ½ acre will give you time savings of next to nothing. Whereas over 5 acres that could save an hour's time. Is that of value or not…?
3. Is the ground all flat, or do you have to mow a hill or gradient? Are you comfortable adjusting for this manually?
You could buy the cheap small deck zero turn Toro mower from Home Depot, mow 1 acre each week, doing about 40 cuts a year (from March to October), maintain it well, keep it in immaculate condition and have no issues for 10+ years. 
That same mower could come to our farm, do a full day's work mowing 15+ acres, clog up, blow a piston, leak oil everywhere and wind up dying a death there and then. As I said, it's horses for courses. 
The other issue is zero turn mower choice. There are now loads of zero turn mower brands that 10-15 years ago did not exist. All they have done is pick a bright color to best represent their brand. Green with John Deere was already taken and Scag and Husqvrana have orange etc. Then all they have done is take a stock Briggs & Stratton engine or a Kawasaki, used all the same stock imported parts and have 'built' a mower brand? 
Yes the engine is important – it's vitally important, but there are SO MANY moving parts on a zero turn lawn mower – it's not just about the engine. 
The other big issue with zero turn mowers is the reviews, I read a couple on Google, which everyones appeared first, I wasn't being picky and honestly I don't think 90% of these reviews are genuine. 
I've spent years on mowers across our 400 acres! Literally years – I've stopped measuring it hours. And because we now have a wedding venue on our farm we have to do even more mowing. 
Before I was able to do a huge amount with the tractor mower. Now we keep the place like a golf course. So whilst i'm still learning, i've got practical hands on experience on zero turn mowers (amongst other mowers). Not only that, anything I'm recommending, I've not just used – I bought and own!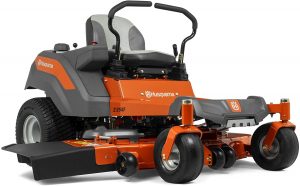 23HP Kawasaki Engine

54 inch FAB 3 Blade Mower Deck

3 Year 'Homeowner' Warranty 

6.5 MPH Forward Speed

Electric Clutch

2 Cylinder Petrol Engine

Cut 2 Acres in 2-2.5hrs
What Engine Do Husqvarna Use In Their Zero Turn Mowers?
I'm just going to run through the model names of the Husqvarna zero turn mowers, as they are confusing.
MZ54 – 24HP Kawasaki Engine 
Z248F – 21.5HP Kawasaki Engine
Z242F – 18HP Kawasaki Engine
However when you look at the Husqvarna website or phone up the dealer it gets a little bit more confusing. Some of the models listed above can come with a Kohler engine, a Briggs & Stratton or Yamaha engine too. So essentially with some models you can choose whether you want the Kawasaki, Yamaha, Briggs & Stratton engine or a Kohler engine. 
Now obviously the Kohler engines are the weaker of those engines. More issues are reported on them and they are made in China. So ideally, you want the Kawasaki, Yamaha or the Stratton engine on your zero turn Husqvarna as they are bullet-proof and will do hundreds, even thousands of hours of work. 
I love Briggs & Stratton and run those engines in other mowers we have, but went with the Kawasaki simply because it was the same engine that we had ran in the Scag mower for over 10 years without a hiccup. 
And because the Husqvarna zero turn mowers are most expensive when you opt for the Stratton engines and considering when they deliver the same HP it was money for nothing in my opinion. I know I could have just offended a few hardcore Stratton fans here (and heck im one of them!). 
Another thing is, if you look at Husqvarnas commercial zero turn lawn mowers they actually  have 13 models from 22HP up to 31HP. Here's the thing, 10 of those 13 models have the Kawasaki engine on them. That should signify to you that Husky themselves back the Kawasaki engines more than the other engine brands.
Infact if you look even further afield from Husky – Toro, Dewalt, Cub Cadet & Beast all use the Kawasaki engine. Says it all doesn't it. 
Does the Husqvarna Z254F Deliver on Power?
The Z254F has a 23HP and that is an excellent size for all residential uses, it gives you plenty of grunt and this mower is never lacking in power regardless of the grass height you're cutting. 
The highest level you can put this on is level 6. This will leave the grass cut at 4 inches. I can have it on this setting and even go and bush hog with it, albeit slowly, but this unit will handle anything even if it's slightly damp, which when in long grass it usually is around the base. I can bush hog 2ft high grass, sometimes grass even as high as a fence post with no problems. 
So whilst they state it's for residential use, you could use this for light commercial work. But it works best for residential, plus if you don't want to mow your property (or have alot of it) that often, then this would be the ideal Husky model choice. 
Drive System: Hydrostatic Made by 'HydroGear'
Best in the business, for this application. Yes there are better drive systems out there but they are on mowers that are starting from around the $6,000 price range. HydroGear mass produces the hydrostatic drive system in high volumes and it works really well and is perfect for residential grade mowers. Very little complaints for me and others on this.  
Maintenance
Oil & Air Filters
Again why this is great for residential properties is the maintenance is easy and everything can be accessed very quickly. You can access the oil, oil filter and air filter easily, at the back of the engine. And if you are doing heavy work on this mower then you will need to blow out or quickly clean the air filter before each use. This will improve engine longevity as it can breathe easier and then wont get as hot. The cooler the engine stays the less oil you'll burn through too.
Oil and filter changes – I'm not sure what the recommended procedure is here, that's somewhere in the service book, but the point I want to make is that it doesn't require any more or any less than other zero turn mowers. Once a year for the oil and the filter is what we do and that's with heavy usage. 
Belts 
In the cutting deck are 3 blades which are driven by belts. Anything that's belt driven means wear and tear and eventually all good things come to an end. The belts should last about 1000 hours of medium to heavy use. Plus they are only rubber so they are cheap and easy to replace which is good news.
Those belts drive the 3 blade mower deck and each blade is powered by an individual bearing and each individual bearings or 'mandrels' to be precise, can be separately greased. So it's nice and simple to maintain, but it's important to keep on top of that greasing. Plus it's easy to access all the belts and mandrels underneath the metal panel where your feet rest. So you don't have to try and crawl under the machine. 
Gas Tank
3.5 gallons Husqvarana state is the fuel tank's max capacity. I haven't worked out an exact miles per gallon on this mower but I can mow 3 acres and still have about ⅓ of the tank left. Maybe even half left, if it's a regular cut. So for its size and cutting capabilities it is actually very fuel efficient. 
Features on the Husqvarna Z254F
Front Light
The front light is awesome and it's mounted on a sturdy metal bracket. I mention this because if you're going to scratch, dink or crash this mower it will be from the front – exactly where the light is. So the good news is the light is on a heavy duty metal bracket that, if the worst happens, can be bent back up into place. Rest easy we all have, at one point scratched a mower. 
The other great feature about the design is that the tires are the widest part. If you have been on a zero turn mower before you will know that the sides at the back always get scratched to hell from fence posts, gate posts, trees or bushes. Well with this model the tires keep you out of trouble!
Bagger
It does not come with a bagger, this is extra and costs cicra $500. 
Vinyl High Back Chair
Also the chair, I have to mention the chair, as it's really comfortable with a higher back as standard made from vinyl so it's completely waterproof too. Plus next to the chair is a cup holder which is great if you plan to be out for hours. Little features but they make all the difference when you're actually mowing.   
Tires
The standard tires that come with it are ample. The tread is aggressive enough to get you anywhere sensible and back again. You could spin the wheels on this mower if you wanted to, there is enough torque to do that on damp grass. But you could upgrade the tires to say 20 inches but I dont think a different tread pattern is necessary. 
Top Tip: If you ever find yourself slipping in a zero turn mower then let some air out the tyres and this will improve your grip by about 50%. Hopefully this should get you out of trouble. BUT whilst it improves grip it does use more fuel.
Should You Upgrade To Something Bigger?
The next level up from the Z254F is the Husqvarna MZ54. The MZ54 comes with these improved features:
24HP Engine vs the Z254F's 23HP

4 Years or 400 'Homeowner' hour warranty. So an upgrade of 1 year from the Z254F. But it also comes with a 4 year or 400 hours 'commercial' warranty. The Z254F is not covered for any commercial usage.

8.5MPH Max Forward Speed vs the Z254F's 6.5MPH

13 Cutting Height Steps (with the highest cut height being 4.5 inches) vs just 6 steps and a max cut height of 4 inches with the Z254F.

5 Gallon Fuel Tank (vs 3.5 Gallons on the Z254F)

Higher back, premium chair with armrests. 

ROPS (Roll Over Protection System) the Z254F doesn't have this system.

Foot operated deck lifting system vs the Z254F's manual, hand operated system
The Husqvarna MZ54 Is The Best Zero Turn Mower For Hills
What's great about Husqvarna mower decks are the rollers on the front. These make it great for mowing and if you have hills, even small ones, this will probably clinch it for you. 
Going up the hills and mowing along the side of them is so much easier as you're not slamming the front of the deck into the hill when you're trying to mow up it. This is coming from someone who has torn a mower deck off before and I had to weld it back on. Honestly. 
The other reason this model is the best if you have hills is simply it has ROPS. The Roll Over Protection System means if you did have an accident on a hill and rolled the machine you have protection there. ROPS is the 'n' shaped sturdy metal bar that arches over the seat.
Although zero turn mowers are wider and more squat with a lower center of gravity vs a standard ride-on mower; on steep hills all mowers are easily flipped. So with the Husqvarna MZ54 which has ROPS at least you're covered. 
Husqvarna Zero Turn Mower Con's
I do have one 'con' of the Husqvarna range of zero turn mowers and it's only small. There is no zerk grease nipple on each of the front tires like there is on Scag mowers. Like I said it's only a small point and you can still grease the front tyre spindle. I just fire it up there with the grease gun, but it would be better with a grease nipple – in my humble opinion. 
But as for cons, that's about it – this mower is a bullet proof, tank of a workhorse!  
UPDATE: On the 2022 models there are now Zerk grease nipples!   
What Zero Turn Mower Should I Buy?
I want to say that any website that asks you what acreage you have to mow and then makes a recommendation for a machine from that; is nonsense. If any mower can mow 2 acres then it can mow 4 acres – it just takes twice the time. 
Whilst this sounds silly to say, it's true. Because if you naively ask any sales person or manufacturer: What do I need?
The answer will always be the bigger, best and most expensive. It's their job to sell and upsell – don't fall for it!
All anyone means when they recommend a machine based on the acreage you have to mow is recommending it based on the time it will take. Instead buying criteria should be engine, engine size, mower deck size, tyre size etc.
That's all true unless you want to buy an electric zero turn mower. Then everything changes due to the limitations of the battery life. You choose the model directly by the acres you can mow from a single charge. We cover the best electric zero turn mowers below.
John Deere Zero Turn Mowers
Although in second place on this list they aren't really. Infact, truth be told they have some features that are better than the Husqvarnas, and they are very worthy of a place on this list. 
I've used John Deere for years, actually decades from their tractors to their mowers and they have always made incredibly robust, well designed and competitively priced machines built for hard work. 
It does come down to only two zero turn John Deere models though. Those are the Z365R and the Z375R. 
The John Deere Z375R has the 25HP engine and the 54 inch mowing deck.
The John Deere Z365R has the 24HP engine but only has a 48 inch mowing deck.
However despite the difference in engine size (albeit only 1HP) they both achieve max forward top speeds of 7MPH. So there is no difference in speed. 
Both Deere models also have the same seats, caster tires, rear tires & warranty. Both also have the same fuel tank capacity and 'V Twin' engines. 
Not that those V twin engines make any difference to the way it mows. This is simply a marketing ploy to 'infer' a difference. Instead of having two cylinders like the Husqvarna Kawasaki engines, they have 2 cylinders in the same housing, but in a 'V' shape. This is all 'V-Twin' means. 
Which John Deere Should You Buy?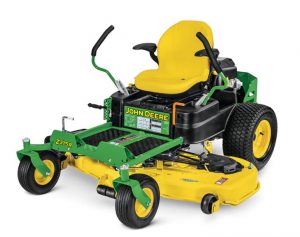 The Z375R has the 25HP engine and the 54 inch mowing deck, so this is much better for larger 2-5+ acre properties. 
Whereas whilst the Z356R has the 24HP engine it achieves the same speed with the same exact spec as mentioned above, but it will have less torque. 
It also has the 48 inch mower deck, so 4 inches smaller than the Z375R. So this is ideal for smaller properties of 0-2 acres. This mower also has John Deere's 'Easy Change™ 30-Second Oil Change System'. It is essentially just a screw-on oil filter. But this makes it perfect for anyone who has limited DIY maintenance experience.
BUT 
The price difference on Home Depot between the two models is only about $199, so there isn't much in it. So getting the better Z375R will give you a better engine with more torque and faster mowing with the larger mowing deck. But the choice is yours…
John Deere Z375R Spec's:
ZTrak™ Mower with 54-in. Deck

25 HP (18.6 kW) V-Twin engine

54-in Accel Deep™ Mower Deck, compatible with optional MulchControl™ kit

18-in seat with armrests, rubber floor mats, foot lift, and premium control levers come standard

2-year/120-hour bumper-to-bumper warranty
How does the best zero turn John Deere mower compare against the best Husqvarna?
Husqvarna Z254F 'Vs' John Deere Z375R
This is a head to head review of the two mowers we have reviewed above.
Both have the same 54 inch mower deck (purposely chosen) so this will be a good side by side review.
Price
The John Deere is cheaper by around 100 bucks, so there isn't much in it. Although 100 bucks isn't to be sniffed at, it shouldn't really affect a purchase of this size, especially when a bagger costs around 500 bucks. 
Engine
The John Deere Z375R has the 25HP engine and the Husqvarna has the 23HP engine. Although the difference in max top forward speed between them is only 0.5MPH (the Deere is slightly faster.) I'll argue that makes no difference. 
I know from using GPS running mapping app 'Strava' that these two machines run, whilst cutting, at the same speed (as you can't mow at top speed). So there is zero difference whilst actually working.
But digging deeper into the specs for both machines the Deere engine displacement is 44.2 cu in. (724 cc) whilst the Husky engine with 2 less HP, actually has 44.3 cu in. (726 cc). So about the same. Now, yes, Cc is the measure of displacement, whereas horsepower is the measurement of work. But nonetheless I like to know these things (Nerd Alert).
John Deere simply states the 'Z375R has a 25-HP ELS John Deere branded engine'. So they don't state which brand makes the engine which always concerns me; are you getting a Briggs & Stratton or a Kohler or something else…?
Whereas with the Husky you know you're getting a bullet-proof Kawasaki FR691V. 
Warranty
This is probably one the biggest points for nearly everyone buying a large ticket item built for heavy work. You want to know the manufacturer stands behind their product and nothing symbolizes this more than the warranty length.
Husqvarna Z254F warranty is 3 years
John Deere Z375R warranty is 2 years 
Drive System
The Husqvarna uses a single hydrostatic head made by HydroGear. The John Deere has a dual hydrostatic transmission. 
Fuel Tank Capacity 
Husqvarna – 3.5 Gallons
John Deere – 2.1 Gallons
Drive (Rear) Tyres
Husqvarna – 18 inches
John Deere – 20 inches
Seat
John Deere – Medium back
Husqvarna – High back
Review Conclusion: Best Gas Zero Turn Mower For The Money 
Should You Buy The John Deere Z375R or The Husqvarna Z254F?
As you can see from the above nothing really separates these two 54 inch zero turn mowers. For every point that the Husqvarna has better, John Deere arguably has one back.
Replacement oil, filters, belts and mandrels all cost about the same if using OEM products, so nothing really splits them here in terms of the price for ongoing maintenance and servicing. 
And there is not really a difference between them whilst mowing, despite having differences in their specs. But I do like the fact Husky has the
larger fuel tank

better seat

and a 50% longer warranty. This shows they really stand behind this mower.

It's also better than the Ariens 915279 IKON Limited because the Ariens the same price but only comes with the 21.5hp Kawasaki engine.
The best price for the Husqvarna Z254F seems to always be on Amazon. 
But the John Deere has dual hydrostatic transmission, bigger tires, comes with white glove delivery service and is slightly cheaper when buying from The Home Depot. And it's a John Deere – this brand builds rock solid machines in Greeneville, TN. 
Best Electric Zero Turn Lawn Mower: Ryobi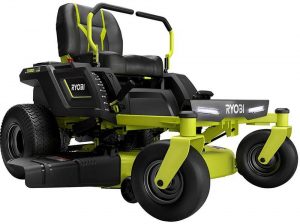 Hailed as the future of lawn mowers, this Ryobi is the Tesla for your backyard! It's super efficient, very quiet and has enough battery power to mow up to 3.5 acres! Plus for the 42 inch deck version it's around the same price on Home Depot as our favorite top two picks above (the Husqvarna Z254F & the John Deere Z375R) so it's a serious contender. 
Ryobi Zero Turn Lawn Mower Spec's:
75, 100 or 115 Ah Battery

4 or 5 Brushless Motors providing Superior Power & Performance

42 or 54 Inch Steel Mower Deck

Zero Emissions

3 Year Warranty

No Gas, Spark Plugs, Filters, Belts or Fumes!

Mower Deck is Adjustable for 12 Positions Cutting From 1.5-4.5 Inches 
Cons Of Electric Lawn Mowers
With huge amounts of pro's they do have one con I found whilst testing driving one for a week on loan from a dealer. 
In the cold you will get less battery life and therefore be able to mow less than you usually could in the warm. Batteries, regardless of what they are or what they run, simply don't like the cold. 
I noted about a 10-20% drop in battery life one, admittedly very cold, morning. 
However this is unlikely to affect the average homeowner as I was mowing 'out of season' whilst it was still cold. 
Also I kept it in our large barn. Had I kept the electric lawn mower in the garage on the side of the house it might not have gotten so cold and therefore the battery would have lasted longer. 
25 Hour Review of The Electric Ryobi Zero Turn Lawn Mower
I can mow an acre down to 2 inches in height for around 17 cents of electric!

Try to maintain a fairly constant speed as this will prolong battery life. As when you slow down to speed up again it uses alot more juice. 

Slightly 'dewy' wet grass will use more battery power too.

Adding on a bagger actually improved the battery run time.

'Low speed cut' button is great for regular weekly lawn cuts and saves on power.

Seat is really comfortable.

Very quiet – great for anyone who uses machines alot and is worried about hearing loss

Loads of torque and is really zippy! 

LCD battery display and meter

Really great precise professional landscaped look
Electric Ryobi vs Electric Cub Cadet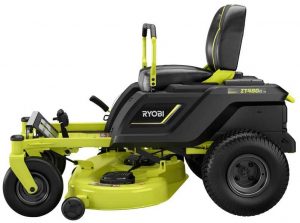 RYOBI has two models
42 in Electric Riding Zero Turn Mower (with either 75 or 100 Ah Batteries)

54 in. 48-Volt Brushless 115 Ah Battery Electric Riding Zero Turn Mower
So you can have the 42 inch deck model with either 75 Ah battery which are good for up to 2.5 acres with one charge. Or the 100 Ah battery which will cut up to 3 acres.
The upgraded version comes with a wider, 54 inch mower deck and a bigger 115Ah battery. This model is capable of cutting 3.5 acres from one charge. 
CUB CADET has one electric model
Ultima ZT1 42 in. 56-Volt MAX 60 Ah Battery Lithium-Ion Electric Drive Zero Turn Mower (they state this will cut up to 2 acres)
Cub Cadet doesn't make a 54 inch mower to rival the Ryobi 54 inch deck electric mower. 
Which Is Best: The Electric Ryobi or the Electric Cub Cadet
Well this answer is easy, just look at the prices on Home Depot. 
The smaller 42 inch mower deck with just a 60Ah battery which will mow up to 2 acres made by Cub Cadet is the same price as the larger better Ryobi. 
So for the same money buy the Ryobi and get nearly double the battery size which will mow up to 3.5 acres, a lot quicker, with its larger 54 inch deck. 
EGO electric lawn mowers are great, like being on a futuristic spaceship, but i'm waiting for the price to come down, they are expensive!
Best Commercial Zero Turn Mower Brands & Models
Ok so let's have a look at who makes what mower for commercial use.  
Toro 
Toro 42 in. 22.5 HP TimeCutter Commercial V-Twin Gas Dual Hydrostatic Zero-Turn Riding Mower with Smart Speed

Toro 50 in. 24.5 HP TimeCutter IronForged Deck Commercial V-Twin Gas Dual Hydrostatic Zero Turn Riding Mower 

ToroTitan MAX 60 in. IronForged Deck 26 HP Commercial V-Twin Gas Dual Hydrostatic Zero Turn Riding Mower
Dewalt
DEWALT X554 Commercial 54 in. 26 HP Kawasaki V-Twin FT730v EFI Series Engine

Stand-On

Dual Hydro Gas Zero Turn Lawn Mower

DEWALT Z260 Commercial 60 in. 24 HP Kawasaki V-Twin FS730v Series Engine Dual Hydrostatic Gas Zero Turn Lawn Mower
Beast
Beast 48 in. 20 HP Gas Powered by Briggs and Stratton Pro Engine Zero Turn Riding Mower with Rollbar (with Commercial Warranty)
John Deere
John Deere Z530M 60 in. 24 HP V-Twin Gas Dual Hydrostatic Zero-Turn Riding Mower

John DeereZ530R 60 in. 24 HP V-Twin Gas Dual Hydrostatic Zero-Turn Riding Mower
There isn't a huge difference between these two Deere models but the Z530R is more expensive. So I've loaded both of them into the Home Depot comparison tool so you can see the differences for yourself. Check that out here.
Husqvarna
Husky, as you'd imagine, has 13 commercial zero turn models to choose from! Jump on their site and review the specs here
How Best To Best Drive A Zero Turn Mower
There are two simple things that will probably extend the lifespan of your mower by 2 or 3 times. One is oil and oil filter changes (along with any required greasing). A simple oil and filter change every so often will do wonders for your engine, engine oil is the life blood of any engine. 
The second thing is don't engage the mower blades whilst you have the engine at full revs. It just puts undue strain and stress on everything. Instead hold the revs at about 1/3rd, engage the blades then slowly increase the revs to the desired level.