Installing Electric Poultry Netting: Essential Considerations
Before embarking on your search for an electric chicken fence, it's crucial to keep the following tips in mind.
Finding the Perfect Poultry Netting
As you explore various poultry netting options for your birds, there are a few key factors to consider.
Firstly, height plays a vital role. Ensure that your fence is tall enough to prevent chickens from flying or jumping over it.
Additionally, it may be advantageous to choose a fence that offers expandability. Check if your energizer can support the additional material, as some can power only a few nets while others can handle dozens simultaneously.
Another aspect to assess is the power source of the fence charger, whether it be AC or DC. Certain chargers rely on solar energy for operation.
Finally, carefully evaluate the material of your fence. You can typically find electric poultry netting made of aluminum or galvanized materials. While both offer some rust resistance, poly rope stands out with its higher tensile strength and exceptional power, making it a viable third option.
Safety of Electric Poultry Netting for Chickens
If concerns about the safety of electric fences for chickens cross your mind, rest assured that they are designed with safety in mind.
In most cases, an electric chicken fence aims to contain chickens and deter predators. Chickens may experience a mild shock upon touching the fence, but their dense feathers often insulate them from excessive shock.
Predators, on the other hand, are typically taken by surprise when they encounter an electric chicken fence, particularly if they come into contact with it using a cold, wet nose!
The only safety concern to be mindful of is when a chicken's head gets stuck inside the electric fence. However, you can eliminate this worry by selecting a fence with appropriately-sized openings suitable for your chickens' size.
Optimal Height for an Electric Fence for Chickens
For an electric fence for chickens, a height ranging from 4 to 6 feet is considered ideal.
While you might manage with a slightly shorter fence if you have chickens that aren't prone to flightiness (such as heavy, slow-moving meat chickens), birds with a tendency for escape artistry will benefit from a taller electric fence.
Moreover, a taller fence serves as a more formidable barrier, effectively safeguarding your poultry from hungry and cunning predators.
Determining the Required Joules for Poultry Netting
Determining the necessary power for your electric fence can be challenging.
In general, you can utilize a charger with at least 0.5 joules or higher for up to four rolls of electric poultry netting. However, it's important to check the recommendations from your electric fence manufacturer to ensure you select the right one for your specific chicken setup.
Top Electric Poultry Netting Options: Our Preferred Choices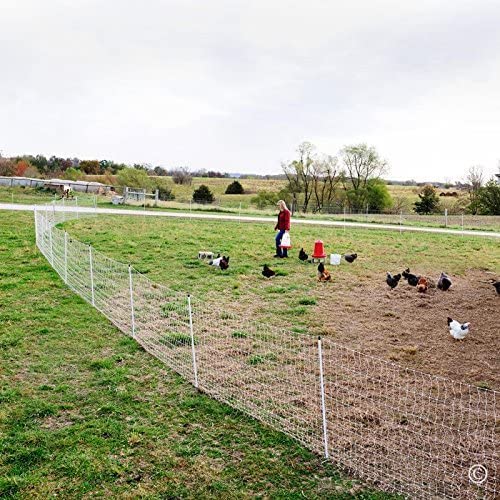 Are you seeking a solution that protects your chickens from predators while still allowing them to graze and forage on fresh pasture? If so, investing in electric poultry netting is a wise choice.
To assist you in making an informed decision within your desired budget, we have compiled our tried, tested, and trusted electric poultry netting reviews, highlighting the best products available.
Best Electric Poultry Netting Kit: Premier Electric Fence Plus [PoultryNet]
Introducing PoultryNet Plus, a convenient and electric, prefabricated portable mesh fence that arrives at your doorstep as a comprehensive fencing solution. This all-inclusive fence comes with preinstalled posts at regular intervals, ensuring ease of setup. The inclusion of robust plastic struts minimizes sagging between posts, offering a taut and versatile fence. Furthermore, multiple rolls can be effortlessly connected together to accommodate larger areas.
PoultryNet Plus is designed to effectively contain poultry, sheep, goats, cattle, and guard dogs. Simultaneously, it serves as an excellent deterrent, keeping out unwanted intruders such as deer, bears, raccoons, skunks, rabbits, foxes, coyotes, and stray dogs.
To enhance the fence's stability and durability, Premier recommends the use of non-conductive support posts at ends, corners, and major directional changes. Consider the Premier 48″ FiberTuff posts (Item 208055) available on Amazon. These support posts offer the advantage of not requiring removal during mowing and trimming, unlike traditional guy-lines commonly used at fence corners.
It's essential to emphasize that the fence must be properly energized to ensure its effectiveness. Please note that the energizer is not included with the fence purchase. For optimal performance, Premier recommends approximately 0.25 joules of energizer per roll of fence. Only utilize low or wide impedance intermittent pulse energizers, avoiding continuous current energizers when working with electric netting. For the best results, consider using a Premier Solar or AC/DC energizer that suits your specific requirements.
Premier presents a wide range of electrical poultry netting options, but this particular electric fence unquestionably stands out as one of the finest choices available.
Not only is it highly portable and effortless to assemble, but it also provides excellent protection against predators such as coyotes, foxes, dogs, and raccoons.
During our usage of this product, we did come across a minor concern. The fence can be susceptible to being compromised by the growth of grass and weeds around its base. Careful and regular maintenance is essential to prevent it from losing its charge easily.
Additionally, it's worth noting that the gaps in the netting may allow small birds, including chicks and young hens, to pass through, which could pose a potential issue.
However, apart from these minor considerations, we adore everything about this fence. It boasts effortless installation and is even suitable for larger animals like goats, sheep, ducks, geese, and more.
Pros:
– Comprehensive package including netting and energizer, ensuring everything needed to get started is included
– Generous 30-day warranty, with the added advantage of a 2-year warranty for the solar-backed battery energizer
– Simple and hassle-free installation process
Cons:
– Maintaining a consistent charge can be challenging when the grass reaches a tall height
RentACoop
Similar to Premier, RentACoop is a highly reputable brand known for its top-notch poultry products.
This electric fence from RentACoop is no exception to their quality offerings.
With this fence, you can effectively safeguard your chickens from a wide range of wildlife, including bears, raccoons, dogs, foxes, wolves, and more.
However, the main drawback of this fence is that it does not come with an energizer. Considering its relatively high price tag, it's somewhat disappointing that a charger is not included.
Nonetheless, this electric fence is truly outstanding, making it worth considering investing in a separate energizer, despite the additional cost.
Simple Setup
Setting up this fence is a breeze, thanks to pre-fastened posts integrated into the design. In most cases, you can have it installed in under 15 minutes!
Compared to the other electric fences we tested, this one proved to be the quickest and easiest to install and move around.
If you have a second person to assist you, it's possible to expedite the process even further. Mowing the area before installation can also help speed things up.
The fence comes with spiked guy lines that effectively prevent sagging, along with double spiked posts for added stability.
However, it is crucial to stay vigilant about timing the growth of grass and other vegetation along the fence's edge. Contact with the horizontal wires can significantly reduce the current or even eliminate it entirely.
This tip is of utmost importance—allowing the charge to drop too low at any point can lead to trouble. Predators quickly learn when a fence is not "hot," and you certainly don't want to risk providing them with a free buffet!
Pros:
– Customizable assembly in any desired shape
– Lightweight and relatively easy to assemble and move
– Multiple rolls can be connected to extend the fence's range
Cons:
– Not sold with an energizer, requiring an additional expense for an already costly fence
Best Electric Poultry Netting Kit
If you are looking for an electric poultry netting kit, then look no further. RentACoop does a great kit that you can unbox and set up quickly.
COMPLETE PACKAGE: The Fencing Set includes a 42″x168′ Electric Poultry Netting, 0.38J Solar Energizer, 3′ Grounding Rod, Gate Handle Kit, and Voltmeter Fence Tester. It contains everything you need to ensure the safety of your chickens, poultry, and other animals!
SIMPLE INSTALLATION: With pre-fastened posts, setting up the fence takes less than 15 minutes! It's a hassle-free process that saves you time and effort.
NO SAGGING FENCE: The fence remains sturdy and taut with stakes positioned every 12 ft, supported by 4 guy-lines and double spiked posts. This reliable structure prevents any sagging issues.
EFFICIENT ENERGIZATION: The RAC38S 0.38 joule Solar Energizer effectively charges up to 504′ of Poultry Netting (equivalent to 3 rolls of 168′ netting). It ensures a consistent and reliable power supply.
BATTERY NOT INCLUDED: Please note that the 12V Sealed Lead Acid (SLA) Battery for the solar energizer is not included in the set.
Are Electric Poultry Fences Effective?
Absolutely! Electric poultry fences are a highly efficient solution for granting your chickens the freedom to free-range while ensuring their safety from predators.
To maintain the fence's effectiveness, it's crucial to perform regular maintenance, especially during the rapid growth period in summer. This involves clearing away weeds and grass that may encroach upon the bottom netting, potentially hindering its ability to hold a charge.
When properly maintained, electric poultry netting proves to be the optimal choice for keeping your chickens content, in good health, and well-protected.