Help! Our chickens have out grown the coop! Not exactly in size – I just can't stop either buying or hatching more!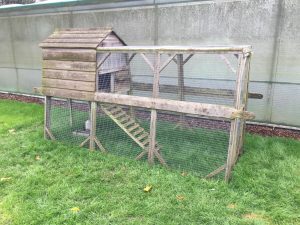 This coop had everything a cool design, enough roost space, walk in door, easy access to the nest box, easy to close chicken door; you name it, its got it.
I especially liked that it was mobile. The bits of woods 'sticking' out of each end are handles to lift it. Id move it to a fresh piece of grass every couple of days the chickens loved it. But we now need a large chicken coop with run to accommodate our expanding flock!
That isn't to say we've not had a fair share of rubbish coops on the farm over the last 80 years. Problems like wheels dropping off, the roofs leaking after a month and we've had a chicken doors break on us after just 6 weeks. To name but just a few issues.
The point is I NOW know what works and what doesn't. Unfortunately what hasn't work has cost us literally into the thousands. All money wasted im afraid, so I've now got a very strict criteria for buying coops ill share it with you below and recommend the best large chicken coops with a runs.
Chicken Coop Buying Criteria
Good ventilation
It's really understated but is vital in any chicken coop, even if you live in cold climates. Most people think of it as only allowing air in, to cool the chicken coop, during say the summer. True, but good ventilation does much more than that.
Heat transfer is always hot to cold, the same for pressure and moisture its always high to low. So when its hotter inside the coop than outside the heat will leave, cooling the coop.
Moisture from chicken poop will also build up if there isn't good ventilation. Chicken poop contains ammonia and the build-up of ammonia causes respiratory issues with chickens.
OK so vents are important where should they be positioned?
Well I'll answer where they should never be placed, that is directly infront of the roost bars.
This is because on a cold windy night your chickens will be sat in a draught. They will get sick, catch cold or worse.
Protection from Predators
They need to safe and happy in their coop, if they aren't they will put off laying and possibly not come outside. So what am I talking about here?
I'm talking about a good strong chicken wire mesh around the run firstly. If there are large windows, they should be covered with a screen. This will also help stop flies.
Locks or catches work great on doors or chicken nesting boxes. It just adds that extra level of protection.
Last but not least you need a robust design. A fox or coyote can using its teeth, rip off loosely fitted panels to get into the coop. This has happened to us and it's a horrible experience, especially if you have children.
Access
Now I'll love a walk in chicken coop. It so much easier to 'walk in' rather than crawling around of your hands and knees. It also means cleaning out the coop and run is simple. Rather than doing handstands leaning over trying to get into all the corners. It makes life easy to replace the water each day and feed them.
In the evening however when you shut them up for the night. I don't like having to go into the run area with a torch in my mouth (so I can see what I'm doing) to close the chicken door. To be able to this from the outside is a tick in my box.
Nesting boxes, most are now situated on the outside of the coop for easy access anyway, so your able to just lift up the hatch on the nest box and collect your lovely eggs.
Misc
Some access to shade so the chickens don't over heat in the direct sun is a bonus. And shade so you can place down the waterer for them to drink from. Do this on flat ground in the shade as chicken actually prefer cool water, no one knows why, it's thought to just be a prehistoric throwback.
I've spent some time then researching and discovering whats out there and reading feedback reviews from people who have bought these coops.
I've made a short list you just need to pick one you like:
The Best LARGE Chicken Coop with Run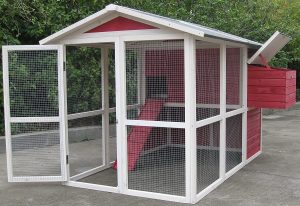 A really nice looking coop this one for the money. I'd say this is an entry level coop I'd estimate a year or two lifespan. So perfect if it's a first coop and you're not sure if keeping chickens is going to be for you and you just want to dip your toe in the water. Or if you have kids and you're not sure if they are going to keep an interest. Or it just comes down to money.
Either way its good coop that comes in a lovely traditional barn red color which will look great in any backyard.
The roof extends across the whole coop and run meaning your chickens have shade so great if you live in a hot area. Or if you live in a wet area as the roof will protection from rain.
You are able to pull out the litter tray, making cleaning really simple. Plus the litter tray has a  galvanized steel base so it wont rot.
Great access all round and the doors etc are lockable.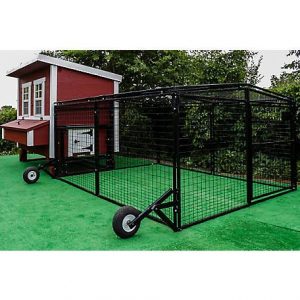 This coop is really well designed (they turned down my request for the plans!) and the build quality is fantastic.
A few key points starting from the top:
The roof slopes to the rear, keeping dripping rain water well away from the nest box.
On the inside of the roof there is a silver reflective barrier to keep the coop cool in summer
2 windows to provide great ventilation with protector screen fitted on the inside.
The floor and siding are resin treated, helping to resist moisture
All doors can be locked in the closed & opened position
Easy to assemble, takes just 30 mins with a screw gun (DIY friendly)
2 roost perches at different levels, as certain breeds roost at different heights.
Wheels can be added, to turn it into a tractor!
The run has to purchased separately it's not included, but this run is purpose built specifically for this coop.
Chickens will want about 8sqft per bird, run space
So the 7'x8' run is good for 6/7 chickens max
The 7'x16' run is good 15 birds max
The more space you give the chickens the more they will love you. Certain breeds like Barred Rocks, Leghorns, Rhode Islands and Welsummers love to forage, so the more space you can afford them the happier they will be. Happy chickens happy life, right?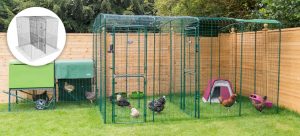 Now in times gone past plastic wasn't to everyone's taste (including my very own), infact it still makes some peoples roll their eyes. I think it was because plastic coops were poorly made, flimsy and fell apart. Well that's no longer the case!
Omlet make the best range of plastic chicken coops. The 'Eglu Cube' coop will hold up 10 chickens.
Let me run through some benefits of plastic for those still non-believers:
Plastic wont rot like wood does – the lifespan of this coop should be 10+ years
Really easy to clean plastic, as it just wipes down
Doesn't have to be sanded, painted or vanished like wood
UV stabilized so the sun wont degrade the plastic
Plastic is recyclable, which is good for the environment
Helps limit (but won't stop in my opinion) red mite
Impressed, well you ought to be, infact Omlet are so confident with this coop they offer a 2 year warranty. That's saying something!
This coop has some great reviews online, go ahead and check for yourself. It has a very modern chic look and comes in two different colors. You can purchase with or without a stand, and wheel are easily attached to the stand if required. So you can turn it into a chicken tractor.
Why I also like it, is the run options.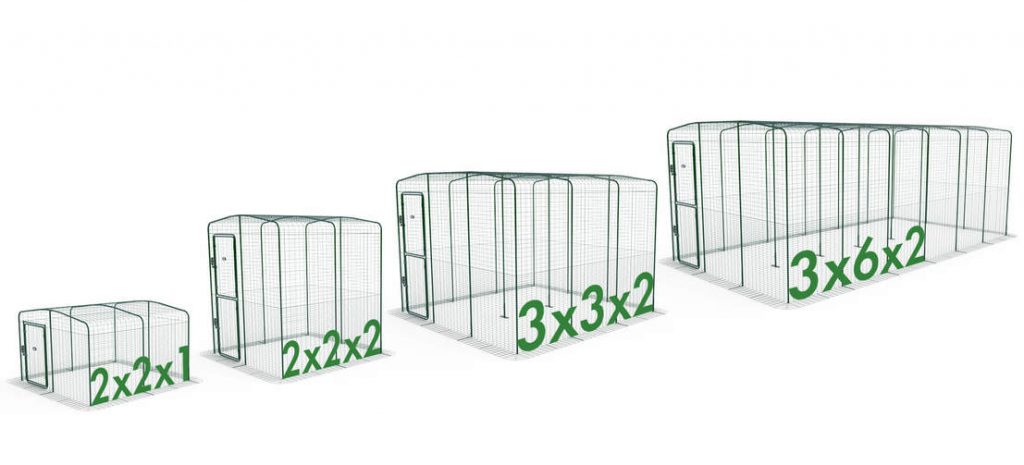 Some key of the run features are:
Very durable, with a good lifespan.
Made from strong wire mesh coated in PVC.
Extendable and totally customizable (want more chickens, just keep extending!)
Can come with a walk-in stable style door
But my favorite feature is the part that runs flat along the bottom of the run and extends out. This is so nothing can dig under and get it.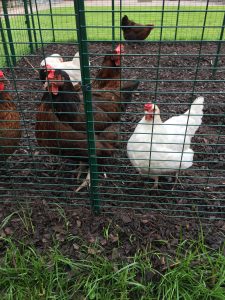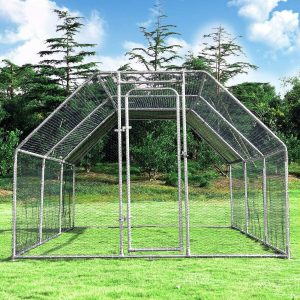 I thought this was worth a mention as it's slightly cheaper than Omlets runs. We have this option too, aswell as the 'Omlet Walk-In Chicken Run'. Quality wise the Omlet beats this hands down but it might come down to price with you. Although you know what they say "buy cheap, buy twice!" However these runs are available in so many different sizes making it perfect for any backyard flock requirements you have.
The poles are lightweight and easy to fit together but won't rust as they are galvanized. You can peg the bottom of the poles into the ground for added protection against unwanted foxes, coyotes or anything that digs!
The walk in door is lockable and can also be secured by wire ties.
On our farm we have this exact set up which houses our bantams. Our cute little Cochins. This run is a relatively cheap alternative, so with the money saved we were able to buy an electric fence to run round the outside. Just for a little bit of extra security. As seen in the picture below. However by the time we had done all that it was over the price of the 'Omlet Walk-In Chicken Run'. Should we have bought that one instead? Well we actually did, now we have two, one of each.
This solution is great if you want them to be able to roam with the security of knowing they will be safe and sound.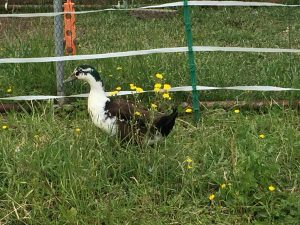 Please ignore the duck it likes hanging around with the chickens!
Best Pre Built Large Chicken Coop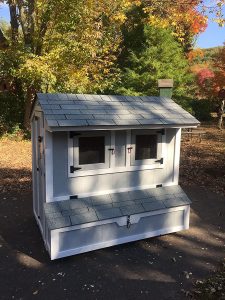 A slight curve ball here with this coop.
All the coops mentioned above require some aspect of DIY fitting, if that's just not your thing and you want something to be delivered completely built – I've found just the thing:
This covers the best aspects from the coops above, a really sturdy roof made from shingle. Lockable doors and roost that runs the length of the coop and is very well made. This coop can be fitted to or in any run.
The End!
There you have it a good few option to choice from. If I had to choose one I couldn't – it would either be out of the:
OverEZ Large [take a look on Amazon]
&
Anything by Omlet [they are seriously good!] they are available only directly on www.omlet.us
Hope this has helped folks!