Short on Time – Here's the Bottom Line:
Looking for the largest, of the mini chainsaw range, that has the most cutting power and torque to cut down trees, cut out stumps, limb and prune then:
The Best 'Gas' Powered 12" Mini Chainsaw = Husqvarna Top Handle T435
The Best 'Battery Powered' Cordless 12" Mini Chainsaw = Dewalt 20V Max XR Chainsaw
Looking to mainly limb, prune or trim then:
Looking specifically for an electric pruning chainsaw for home use that will cut 5x faster than a handsaw?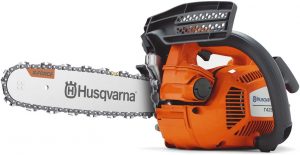 Without doubt here the Husqvarna tops the bill. Hands down 'Husky' chainsaws are the best gas powered mini chainsaws you can buy. That famous bright orange brand is known all over the world and it has built that reputation over decades. They manufacture chainsaws right up to 36+ inches for the professional saw mill market. So not surprisingly this is the 'go to' chainsaw brand for professional loggers who have these saws swinging off their hips all day long.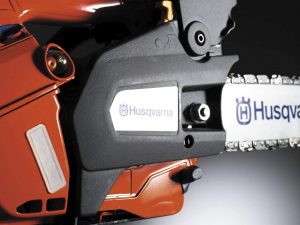 This 12'' top handled chainsaw is the best in class for speed, cutting, handling and noise. Beating all of its rivals on every major selling point – that really matters. 
What is noticeable about this chainsaw, is that for a gas chainsaw, it's lightweight. This Husqvarna weighs just 7.5lbs. That makes it agile enough to prune branches but it has the 'grunt' to easily cut logs in the backyard all day long. 
The anti vibration system in this mini chainsaw really works. Less vibrations means you can cut for longer without suffering from 'user fatigue'. You just don't feel it in the arms as much as you do with this mini chainsaw, as you do with other brands.
Again, combine with the fact it's lightweight and it makes for the best 12'' gas chainsaw on the market. And that's whether you intend to just use this in the backyard or take it work every day with you in the truck.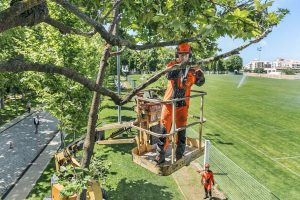 Other Features On The Husqvarana Mini Saw:
Comes with Husqvarna's new 'x-cut chain' and 'x-force Bar' for superior cutting and long lasting durability. This is a great feature, not found on the older models. Meaning the chain will last longer than previous models and cuts alot better due to the design. 

'Side chain tensioning' helps with quick and easy chain tightening when on the job.

Rope attachment makes it much easier and safer to hoist up trees. If you are taking this saw to work with you everyday a rope attachment is a must have necessity. 

Low fuel consumption making it much more eco with reduced exhaust fumes.

'Chain break window' allows for better visibility of the guide bar tip again this is an improvement made for this new model. Makes it incredibly easy to cut wood, whether you are a beginner or a pro.
The other fantastic brand of chainsaws is Stihl. Truly world class. But unfortunately Stihl doesn't make a mini chainsaw.
The MSRP for the Husqvarana Mini Saw is actually over $450 BUT it's listed directly on Amazon for under $360.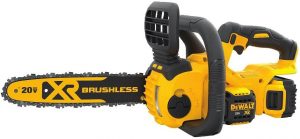 If you don't want the noise that comes with a gas mini chainsaw or don't want to top up with gas then you need to go cordless and electric. 
Dewalt offer the best battery powered 12'' mini chainsaw with plenty of power to cut branches and logs up but it is agile enough to happily prune all day. Being battery powered this of course means it is fully cordless for use on the ground in your backyard or up trees cutting branches. 
We have gone for the 'MAX' as it has more power than the standard 12'' version. The max range has 20V batteries resulting in you having more power and therefore you can get more cuts from each charge. Meaning no flat batteries when you are in the middle of cutting wood.
The motor is brushless meaning it will give really great longevity. Pretty much all brushless motors outlive their 'non brushless' counterparts. Brushless also maximizes run times.  
Benefits of Electric
Aside from noise, the gas-free operation eliminates the fumes, cold starts, carburetor problems, and maintenance involved with gas mini chainsaws (like spark plugs). 
Features of the Dewalt 20V Max XR Chainsaw
Easy to fill oil reservoir with easy to view oil level window. This means you will never unknowingly run it out of oil. Dewalt put this window on the front making it really easy to quickly check the oil levels whilst working, with just a glance. 
It's not actually called a 'Top Handle' mini chainsaw but it's the closest thing, battery powered wise, you are going to get. So that's another big reason why it tops our list of best 12'' mini's. 
Access to the blade is really easy and you doesn't require any specific chainsaw tools. You simply unscrew the bracket and the housing comes straight off. This is useful for maintenance like blowing out the sawdust (which you will have to do!) and build up of gunk and oil etc. 
With other chainsaw brands this was more hassle and seeing as ideally you should clean this area out each time you change a battery we saw this as the big bonus feature of this model. 
It's also really easy to tighten and loosen the chain. Again no tools required, yet another bonus feature of this model! There is a knob at the rear of the chainsaw on the side, just using your fingers twist it one way to tighten the chain, or twist it the other way, to loosen it. 
If you already have Dewalt tools then you will already have the batteries that fit this chainsaw, this is a bonus and could save you a good few bucks. Something to think on…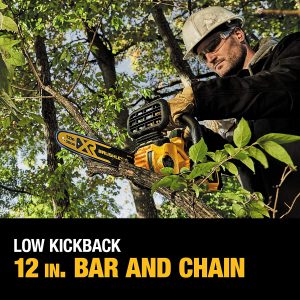 How much performance do you get from one battery charge?
Hard to say based on the wood you're cutting, its age and the temperature you're working in. Dewalt states:
'Up to 90 cuts per charge on 4×4 pressure treated wood (using a 20V MAX* 5Ah battery)' 
But 'label claims' and 'real world' usage always differ. 
So to give you a real world example, you could fell a 60ft high, 12" dbh Pine tree and cut it up to load into the back of a pickup, with just one battery. 
Cons Of The Dewalt 12'' Chainsaw 
It's an awesome compact utility saw, so these points are not so much cons but more just points to be made aware of. 
Firstly the batteries won't give you the same amount of performance in the cold. Simply because batteries don't like the cold and this is true of all batteries not specific to the Dewalt chainsaw batteries. 
So expect to get around 25% less battery life, in the extreme cold as to what you would normally see. This sucks a little but the weather is out of our control so nothing we can do here I'm afraid. 
The only thing I can suggest is to have more than one battery so that you can have them in constant rotating supply, from usage to charging and then back again.  
The next point is chain speed, all cordless battery powered chainsaws are not as powerful as their gas powered counterparts. It's as simple as it sounds; if the chain doesn't spin as fast it wont cut as fast.
Chainspeed to the average backyard enthusiast won't matter too much looking solely for home use. But to counter this, simply take it slower and you'll end up with the same result – cut wood. 
Upgrades For More Power?
You have options. If you want to cut alot of wood, and time is an issue, you'll have to upgrade from this 20V mini chainsaw to a 40V or even 60V regular sized battery powered chainsaw. 
You want to be looking at something like the Dewalt 60-Volt MAX Lithium-Ion Cordless Flexvolt Brushless 16 Inch Chainsaw. It's got awesome torque, faster chain speed with all the great Dewalt features mentioned above for a really great price. 
Costing about 50 bucks less than the Dewalt, the Craftsman V20 is a viable alternative. It is however heavier, so if usability, agility and user fatigue are top of your list, perhaps this isn't the chainsaw for you. You will also need to buy the craftsman battery charger. It also doesn't have the Oregon chainsaw chain, they have their own cheaper version which doesn't cut as well or stay as sharp. 
It also wont cut as much as the Dewalt according to its specs, but it is 20V and comes with lithium ion batteries and lots of easy to use features. 
It does have a few fairly solid reviews but nothing like the thousands of 5 star reviews the Dewalt has. The choice is yours…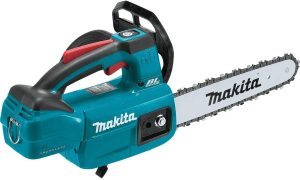 Makita is the only top level brand making a 10" battery powered chainsaw worthy enough to make our list. 
The 10" compact top handle design is a good mid level saw ideal for pruning, trimming and limbing.
You couldn't really cut down large trees with a 10" chainsaw, for that you ideally want one of the bigger chainsaws featured in the reviews above.
How much performance do you get from one battery charge?
Makita states 'up to 175 cuts in 2×2 cedar'. That is very respectable for its size.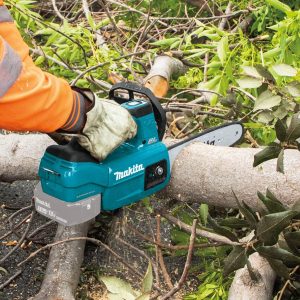 Why Buy A Mikita?
The efficient, compact, Makita outer rotor brushless motor has a direct drive system, so users get high power efficiency that is equivalent to a 'smallish' 22cc gas chain saw.
The XCU06Z has a high chain speed (0-4,720 FPM) for increased cutting speed and a variable speed trigger. Yes it's smaller than the 20V 12" chainsaws above, given that it's 18V and only 10" but owners really report this mini chainsaw as packing a decent punch.
It also has 'torque boost mode' for cutting dense material, which really helps if you're cutting hardwoods or tricky branches. 
Being electric it has zero emissions and reduced maintenance when compared to gas powered chainsaws. Such as, there is no engine oil to change and no spark plug to clean or replace. 
Also it has no air filter or muffler, so there's no time wasted cleaning them or the cost of replacing them. The obvious point is battery powered mini chainsaws require no gas!
Simply insert the 18V LXT Lithium-Ion battery and the saw is ready to work. 
Features include:
Chain lubrication is both automatic and adjustable. 

The built-on lock-off lever helps to prevent the chain from accidentally engaging, making this a great chainsaw for beginners or someone with limited chainsaw experience. 

It also has an electric brake providing maximum productivity.  
Top Tip: Get this mini chainsaw as a kit with the upgraded 5Ah batteries (standard is 4Ah)
Milwaukee makes the best handheld small pruning mini chainsaw for home use on the market. With a compact design and weighing under 5 lbs this cordless pruning saw gives you maximum control and maneuverability in tight access areas.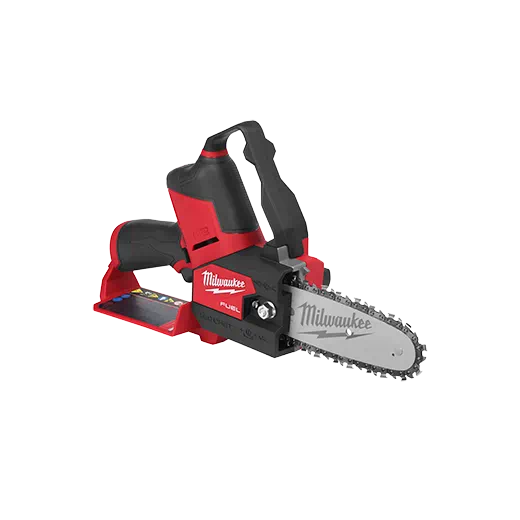 Best in the 6 inch chainsaw class: Why?
Best design on the market as you can hold this easily with both hands (if required). That makes using this much easier and requires less energy. It is also twice as safe. Although only 6 inches, all chainsaws are dangerous so being able to maintain 2 points of contact with this design of saw is a big bonus point. 
The second point on the design of this chainsaw is that it's rear handled, not top handled. And that's better for two reasons. Better firstly for use within small spaces and tight areas but also safer; as the users hands are further away from the blade. 
The 'M12 Fuel Hatchet' has the power to cut 3″ hardwoods, which puts it above all other 6 inch saws. It also delivers up to 120 cuts per charge in 2 inch Oak! Which will be sufficient for home use for any serious backyard enthusiast, as this should translate to a full day's work. 
This awesome pruning saw features:
A full house chain 

Easy access chain tensioner

Automatic oiler

Metal bucking spikes

Onboard storage for the scrench

Rivals the Stihl GTA26
This chainsaw is part of the M12 range of tools made by Milwaukee. Meaning the batteries will fit into any of the 100 tools made in this range. A great bonus if you already have some Milwaukee tools.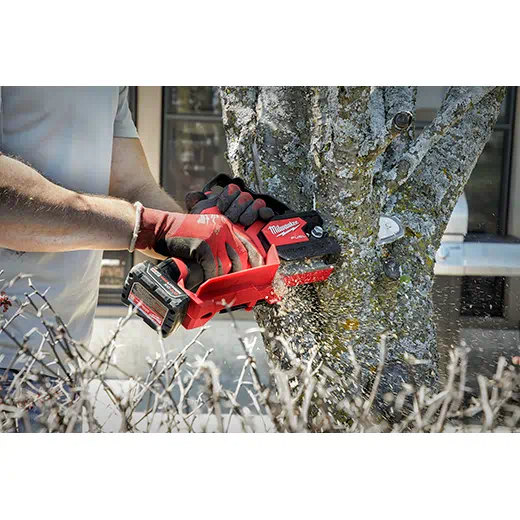 Milwaukee mini chainsaw chain
Milwaukee makes world renowned power tools, famous for being tough and durable whilst delivering maximum power and battery life. So this chainsaw taps into everything that Milwaukee are great at, lithium-ion battery powered, brushless motor power tools. 
But they aren't well known for metal chainsaw chains. And there is nothing wrong with that, stick to what you do best. So it's really encouraging to see a pedigree chainsaw chain used on this Milwaukee. They actually use a Oregon chainsaw blade and that is how it remains sharper for longer and makes easy work of cutting through hard and soft woods. 
So you have the one of the world's best power tool manufacturers combined with one of the best chainsaw chain manufacturers, all in one chainsaw. BUY!