Omlet make a fantastic range of plastic chicken coops and they have emerged as the brand leaders in their niche. Their coops are available in two cool colors, you can add on custom runs for them in sizes to suit your flock size.
You can place them on the floor or on a stand and even add wheels to make it mobile and really easy to move. Sounds good?
We will review their two chicken coops and come to a conclusion on whether the coops are worth the price tag…
Having bought 3 Omlet chicken coops for our farm AND the Omlet walk in chicken run, we have spent between 3-4 thousand dollars over the years just with them.
Let's run through their range of chicken coops to see which one is perfect for you!
Firstly, why plastic? What are the benefits?
Benefits of plastic
Plastic wont rot like wood will. This means you don't have to treat it, sand it or paint it – ever! Omlet have made the first hassle free chicken coops that keep your free time, well, free, without the need for endless chicken coop repairs or modifications.
Super easy to clean – it's the chore that no one relishes, but has to be done none the less. Daily cleaning is so simple, just pull out the litter tray empty, wipe down if necessary and replace. Job done. Being plastic you can wipe it with a wet cloth with no issues whatsoever. You can even spray it down with a pressure hose if needed. In fact that goes for the whole coop, it's all plastic so it can be easily cleaned in 2-3 minutes and dry again in no time.
It lasts longer than wood, as mentioned it won't rot meaning you can expect 10+ years' service from your Omlet chicken coop. And when you're done its 100% recyclable, neat huh?
What confused us (at first), and still does most people – is the space question.
How big are the Omlet coops and how many chickens will fit in the coop?
The next question after that is; what size run do I need to go with the coop? Well lets nail those questions so everyone is on the same page.
Buying a chicken coop and run with not enough space will lead to unhappy hens and probably fighting amongst bored hens who don't have enough room to exercise. Remember happy hens lay the most awesome eggs.
How much space do chickens need?
Coop Space
In the coop the minimum space required is 4sqft per bird. That's for a medium sized chicken like an ISA Brown or Leghorn. Larger breeds like Australorps or Orpingtons will naturally require more space at 5-7sqft per bird. Bantams will need 2sqft as a minimum within the coop.
Run Space
Bantams will need 4sqft per bird, medium sized chicken breed require 8sqft and large breeds 10-12sqft.
The Coop and Run space requirement as stated are minimums. How it works with chickens is the more space you can give them the happier they are. The happier they are the more eggs they lay – it's that simple. However most people want to know what the minimum space requirements are to work out if they can keep chickens in the first place. And the answer, in most cases is – yes you can, you don't need to own a farm and have them free range! Ok, question answered let's move on to the Omlet chicken coops: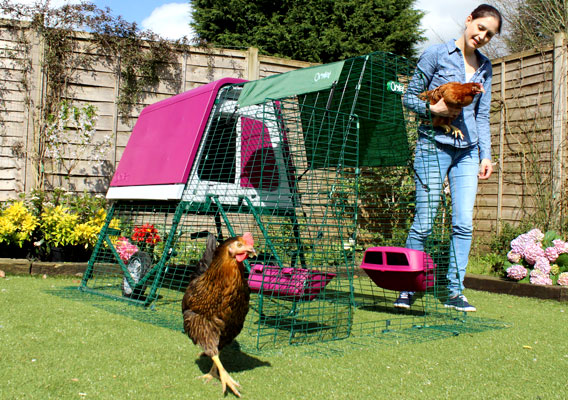 Suitable for: up to 4 medium sized chickens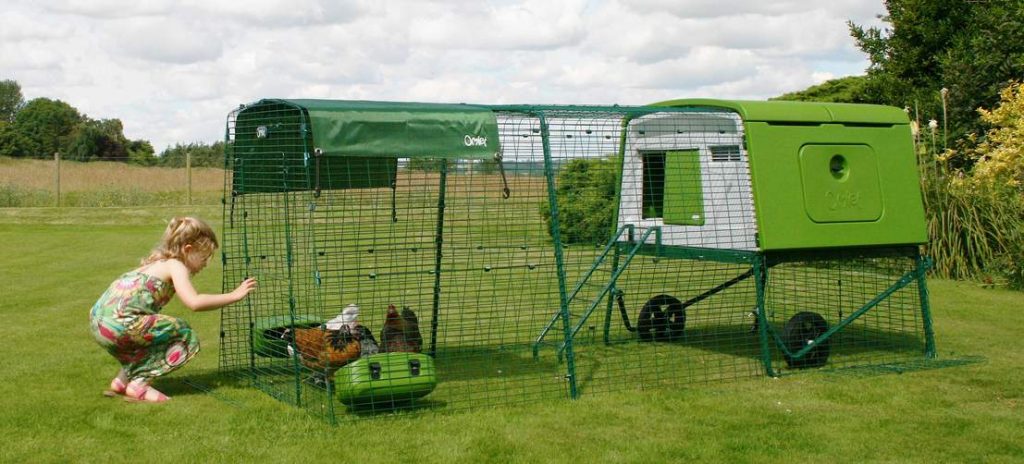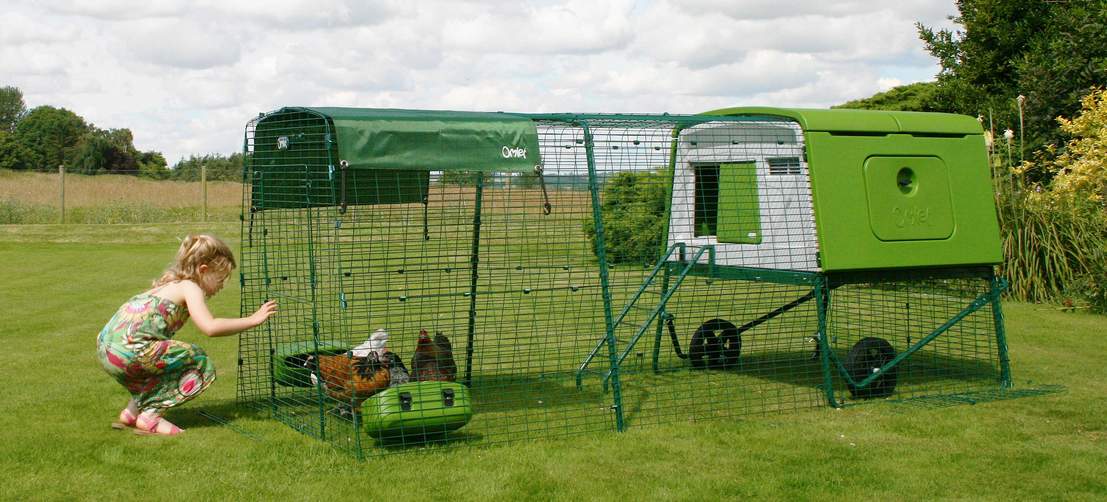 Suitable for up to 6-8 medium sized chickens
The frame –  is it worth it?
Yes. Whether you buy the Eglu Go or Eglu Cube, it's a yes. The frame is what will keep it off the floor and this is great for a number of reasons.
Firstly if you are short on space this the best space saving design ever. It means you haven't got to purchase a larger, more expensive run to get the same amount of space as you would have with the coop being 'off the floor', because now the chickens can use the space it under it.
This has more benefits than just space, it also means you chickens will now have somewhere to shelter from the sun, wind, rain and snow. Protection from the sun is critical as chickens can suffer from heat stress very easily.
This area is typically where most users will locate the water and feeder, keeping it dry and out the sun is important. Chickens actually prefer cool water and chicken feed in the sun or rain will go off quickly and go moldy.
*The ladders are included when you buy the frame so your chickens can easily get in and out of the coop.
Add Wheels
Wheel can be added to the stand to make it totally mobile. The whole thing can be moved to a fresh piece of grass in seconds. Chickens love to forage and moving it every day or week will keep them chickens really happy as they enjoy scratching around and eats worms and bugs in the grass. It also means during winter you won't get a build-up of mud and the grass won't go brown and die.
In fact chicken poop contains nitrogen one the key ingredients to lawn fertilizers, they will single handedly fertilize your grass and eat it so you don't have to mow it! Chickens really are brilliant pets!
These are made with exceptionally strong welded wire. It's then covered in PVC meaning, it won't rust, will last for years and looks super smart in green! The thing we and others like the most is the anti dig skirt feature around the runs meaning that nothing (eg foxes) can dig underneath and gain access. Nothing gets out or in without your say so with the Omlet chicken runs.
Runs are extendable!
Keeping chickens is addictive – trust me! You get started and with a few and by the next year you are at double where you started. Omlet have made expanding your flock as simple possible by allowing you to purchase more run material to add on an extension yourself. It's really simple to do and comes with instructions to help you along the way.

Standard Run Sizes
With all the different runs available for the two coops and the different run configurations it can get confusing, so for clarity use the following:
6ft long run – Perfect for up to 2 medium sized chickens [total = 20sqft]
9ft long run Perfect for 1-4 medium sized chickens [total = 30sqft]
13ft long run [only available with the Eglu Cube] Perfect for up to 5 medium chickens [total = 42sqft]
Have the space for a slightly larger run or want to 'semi' range your hens but with security of knowing they are safe all day – get the Omlet Walk In. A proper walk in door makes access so much easier, you wont regret it.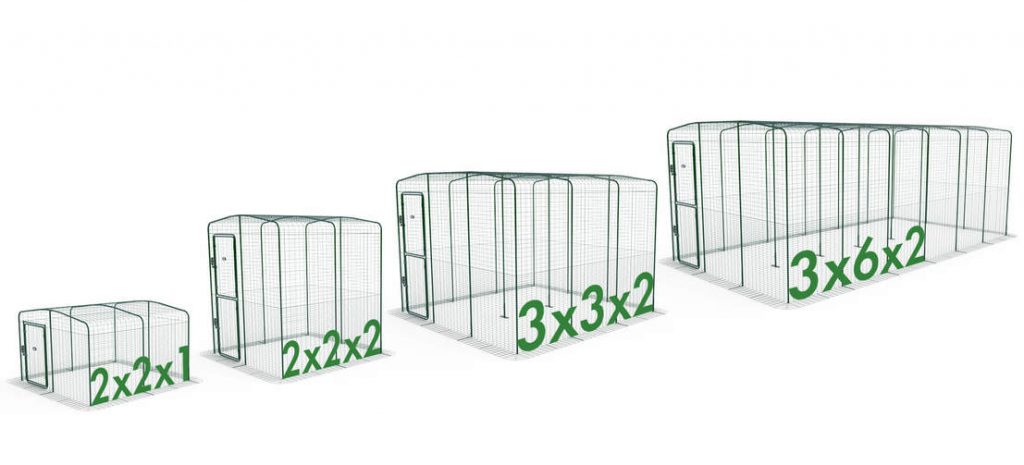 Our Dorking's love their Walk-In run: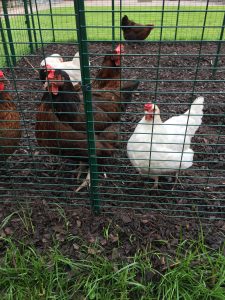 Conclusion
The range of products offered by Omlet are well worth the money. They have head turning chicken coop designs which are simple to clean but most importantly chickens love them and will lay a huge number of eggs for you in them. (Seriously – when we switched to an Omlet Coop our egg production actually went up!)
I wasn't sure if being plastic they would be flimsy and cold during the winter, I couldn't have been more wrong –  they are even more robust than our wooden coops and will outlast them, too! That's real value for money.
These coops are tried and testing on our farm from 35C [95F] down to -10C [14F] and have never let us down, we haven't had 1 frozen egg even in the depths of winter. All that's left to do now is fit an Omlet automatic door!
Shop the Omlet range here in the U.S www.omlet.us
Omlet also have a store in the U.K www.omlet.co.uk
Hope this helps – you decide!