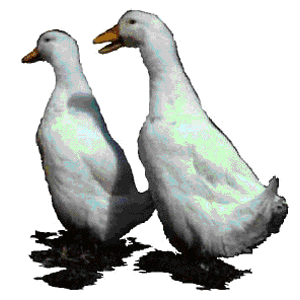 Breed Club Secretary
Ducks come under the brief of:
· The Domestic Waterfowl Club of Great Britain
· The British Waterfowl Association
Image
n/a
History
This breed was imported from Peking into both England and the United States, in 1873. Both legs and bill are deep orange colour, and the plumage a kind of ferret-white, with a strong canary tinge, which becomes stronger still in the underfeather. The legs are set on rather far behind, which gives an upright or Penguin carriage.
Characteristics
n/a
Breed Tips
Open feathered so more likely to get mites / ticks / fly strike . . . watch in extreme humid heat for signs of distress. If found treat with sheep product such as Spot-on applied with a cotton wool bud to the base of the sull on the shoulders as all OP's are dodgy.
Keep as a trio or as a pair.
Purpose
Dual / Broody
Classification
n/a
Origin
China
Egg Color
White
Egg Numbers
80 / 100 per annum