Walk in chicken coops make life super easy. It gives you trouble free access into the coop meaning:
Cleaning out the coop is so much easier
Feeding and topping up the waterer each day is simple
Gives you enough space to get inside the coop if you encounter a problem and have check up on your chickens
Buying a chicken coop is the most expensive part about raising chickens, so you want to get it right. You need something that looks nice because you'll be the one staring at it in the backyard.
You need something that's study enough to handle being outside all the time in the sun, wind, snow, rain and cold. After all what else do you spend good money on that then just sits outside all day! A chicken coop has a tough little life….
But most of all you want something that's is going to be perfect for your flock, after all they are the ones living and laying in it!
So my current walk in chicken coop (photo below) is in need of a refresher, in other words, I need a new one! This led me to do tons of research to see whats available and figure out what & where the best walk in chicken coops are…
The trouble is, I've a strict criteria now for buying coops, having bought several rubbish ones in the past. So when it comes to buying a walk in chicken coops you are really looking for something that ticks these boxes: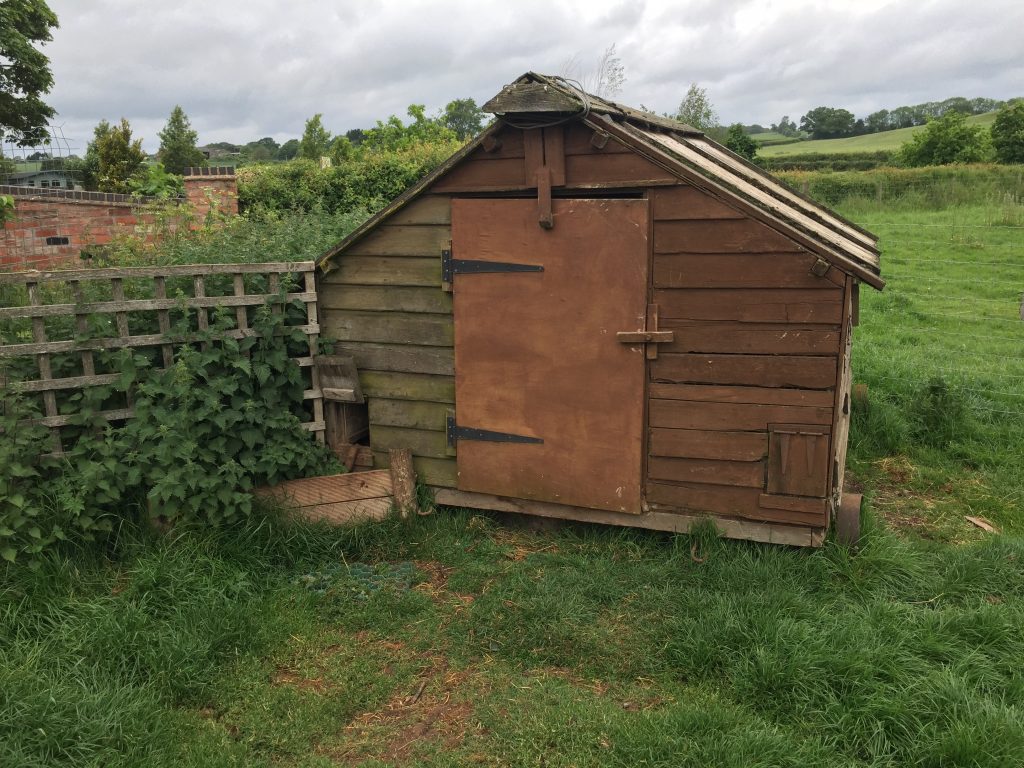 Good Ventilation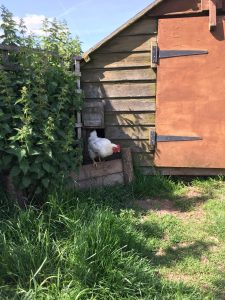 Often overlooked by people, ventilation is actually really important, even in cold climates. Ventilation is allowing air to flow in and out of the coop.
N.B Heat and moisture travel from high to low, or hot to cold. Meaning if its hotter inside the coop than outside, the flow of temperature will be outward.
Why is this important?:
Outflow – to allow moisture to be removed from the coop, to prevent excessive build up. To allow ammonia to be removed from the coop. (Ammonia is found in chicken poop and is a huge cause of respiratory related issues with chickens.)
Inflow – To allow cool air to enter the coop during long hot summer nights & to keep the coop cool during the day when chickens are laying. (well you don't want to be too hot whilst working!)
Positioning of the vents is important too. You don't want vents directly in-front of the roosting area, where chickesn will sleep. On a cold windy night they will be in draft, very quickly this will make your chickens catch cold and they will stop laying or worse.
Treated Wood
Now this depends on preference, as most treatments for wood contains chemicals. However treated wood will last a lot longer than non treated.
Make sure the coop was treated and the treatment has allowed enough time to dry (also called curing) before you let your flock into the coop.
Anything bought over the web will come pre ready for your birds, so nothing to worry about there.
Sturdy Construction
You don't want something flimsy that within a few months is going to fall apart (I've had a chicken door fall off in 6 weeks!). Especially if your flock has just got settled into their new home. Having a sturdy construction will prevent predators getting in. It happened to us and it's an awful experience.
Nice, safe and sturdy is best, that will make for happy chickens who will lay amazing eggs!
Make sure if there are windows in the coop they have a screen covering them from the inside, to prevent access for predators and flies.
Nesting boxes with easy access
Ideally located on the outside of the coop, so you can just lift up the lid and collect those eggs each morning. But with a walk in it doesn't really matter as access is so easy. It also means when cleaning the nesting boxes and laying fresh bedding you aren't doing handstands, leaning over, trying to reach every nook and cranny.
I've made a short list, based on the criteria above, so all you guys have to pick is pick your favorite:
Walk in chicken coops for sale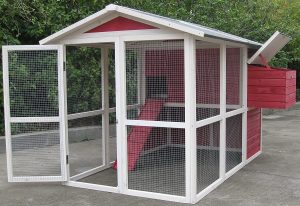 Really great access into this coop. From the main walk in door on the front but also from the rear.
At the rear you have two forms of access. One door that swings open so you can get at the roosting area. Then there is access below to pull out the litter tray that catches the poop. The litter tray is metal too so won't go rotten or moldy.
Comes in a lovely vintage barn red color which would look great in any backyard.
In the run area there is shade meaning chickens wont over heat during hot summer days. Chickens can easily over heat and suffer from the consequences.
The nesting box is on the side and makes for easy access to collect those eggs & the box is lockable.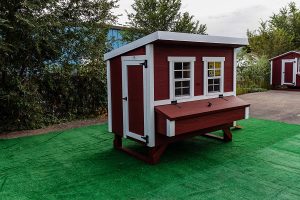 This Coop is our TOP PICK!
This coop has a great design, with 2 cute looking windows to allow for good ventilation. Safety and security are a top feature of this coop as the main door is lockable and so is the nesting box and chicken door.
The roof slopes to the rear of the coop, this design works well, it means the water running of the roof avoids the nesting box. That's a well thought out design and I like it.
It sits just off the ground meaning your chickens would have some shade in the summer as they could relax under it or take a dust bath.
The inner roof is lined with a silver radiant barrier to help keep the coop cool during summer, great if you live in a hot climate or just have hot summers.
It can be supplied with wheels making it much easier to move and different sized runs can be attached to suit your flock size. Neat
The roosting bars are at two different heights. Why is this a feature?
Well different breeds of chickens actually roost at different heights! The most common roosting height is between 3-5ft high. These bars are perfect then.
The Best Large Walk in Chicken Coop for Predator Protection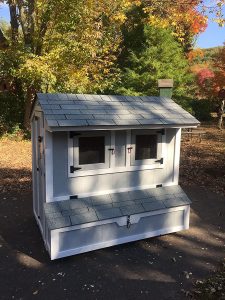 Predator proofing includes lockable windows, nesting box and main door. Nothing gets in or out without your say so!
Easy to open chicken door with manual pull handle, so you could attach a run to this and its still easy to let the chickens in and out.
Predator screens cover the windows making it even more safe but also reduces the flies that can enter.
Its built using ultra strong T1-11 siding offering good protection against almost all predators, that might try to bite or tear their way in. Its also gives it great aesthetics as it looks really 'chic'.
The roof is very long lasting made with 25 year warranty shingle. Offering great protection against anything trying to gain entry from the top (think raccoons or squirrels).
An all round great walk in coop, perfect if you live in an area with a high predator risk and comes already built if DIY isn't your strong point…..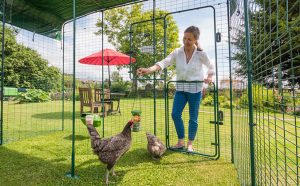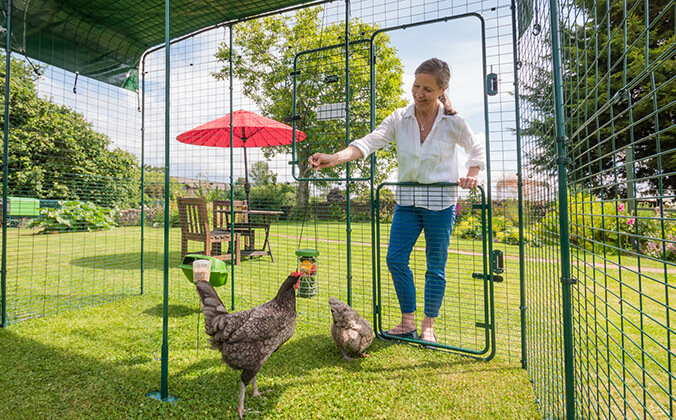 These are easy to construct, light weight and easy to move, making them really versatile for any backyard.
Its manufactured with a steel frames meaning they have a great lifespan.
On the bottom there is the option to 'peg' down the coop into the ground. This makes it very stable and offers extra protection against predators.
The steel tubes wont rust as they are galvanized, also making them easy to clean. Covering the steel poles is a PVC coated wire mesh. The small gaps in between means protection from even the smallest of predators.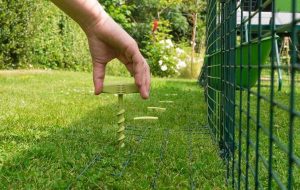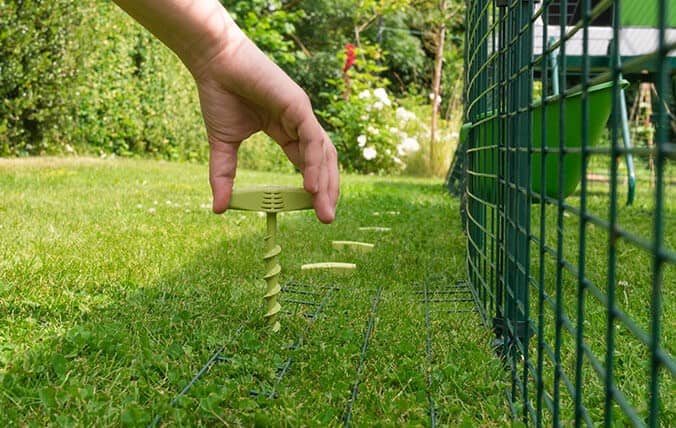 'Add-On' a dual purpose cover that goes over the top of a section. This is easy to fit and offers the chickens shade when its sunny out but also offers some protection when it rains. The cover is UV resistant meaning it won't fade and should last a long time.
Comes in loads of sizes and is completely customizable so you get EXACTLY what you want/need.
Want my advice?
Get the size slightly larger than your current requirements. Keeping chickens is addictive and it won't be long before you want to expand your backyard flock!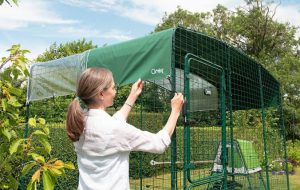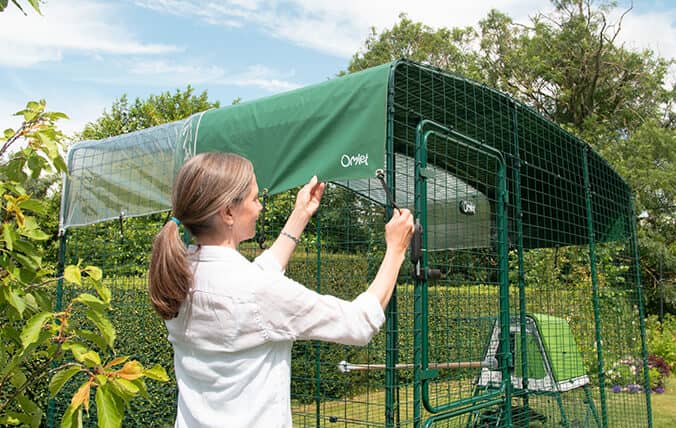 This is great walk in coop, if you want to give you chickens plenty of space to forage and free roam but in a safe environment. With a 30 day money back guarantee PLUS a 2 year warranty you've nothing to lose they are easily everyones favorite chicken coop and run brand too.
Omlet aren't on Amazon so just google them or go direct to their website www.omlet.us
The Most Prettiest Walk in… [Coops and Feathers]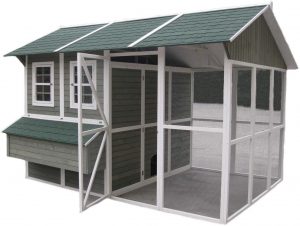 Ok so my tastes perhaps are going to be to everyone's liking all the time. But you have to admit this coop is great looking!
This coop is infact a double walk in – I stand corrected! It has two doors for access, two windows and a nesting box, accessible from the outside.
The roof is A-framed and is high enough to allow lots of room and keep the coop nice and cool.
The roof is extended over the run giving your chickens shade and protection from the rain. It will also keep the run from getting too muddy and won't cause issues under foot.
Called the XL coop so its great if you have lots of chickens to home!
The Best Large Walk in Chicken Coop
For me its got to be the OverEz walk in coop [try amazon]. Its really well made and seriously well designed, everything is in the right place, exactly were it should be. I like that the roost bars run the length of the coop and are at 2 different heights, that's great if you have or want different breeds in your flock. Personally I'd get many many good seasons from this coop and you will too!
BUTTTT if you are going to buy the coop and run seperately the best walk in runs are hands down from Omlet – without doubt. And you can switch it up buying a different coop for a different run, so i'd do that, but do what works best for you – its your money!
That's all for now folks, let me know your favorite coop & why.
You need chicks and/or chickens for your new walk in coop…
Check out the guys and gals over at Cackle Hatchery. They have a super friendly service and being a 3rd generation business they know their chickens. They ship a huge variety of chicks out across nearly all states and have excellent reviews. Be sure to check them out for yourself.