Stihl Handheld Chainsaw Pruner: 'Stihl GTA26'
Stihl (like Husqvarna) are chainsaw royalty. The brand is known all over the world and is used by professionals day in day out.
Which is why we were so excited to review their latest offering – the 'Stihl GTA26'. A handheld cordless, electric battery powered pruning chainsaw made specifically for home use. This has got a lot of backyard enthusiasts and keen gardeners excited as this could save a lot of time and effort versus pruning by hand. 
The Stihl GTA 26 handheld garden pruner is not only a completely new tool in the Stihl product range, it is the first of its kind on the U.S. market. It's really compact with comfy rubber grips, which make it easy of use and this all reduces wrist strain. It also has an LED light display that shows its charge level and tool status. 
It comes with a battery, a battery charger, some replacement oil and its own transport bag. So the GTA 26 set comes with everything owners need to successfully take on tons of landscaping jobs. 
Stihl GTA26 Spec's
Infact Stihl states 'The GTA26 is the first battery-powered garden pruner of its kind on the U.S. market.' A big statement but admittedly made from one of the best chainsaw brands, ever.
But being a new product and Stihl not exactly being well known (yet) for electric power tools; lets run through the specs and see if it holds up to its claims and ultimately whether it's worth buying over, say, the Milwaukee Hatchet.
Handheld
Let's clarify this, as I guess anything you can hold in your hands is handheld, right? But with the GTA26 it's easy to operate with just one hand, freeing up your other hand to stabilize yourself or hold the item you're cutting.
4 Inch Chainsaw Blade
The GTA26 is the best in the small 4 inch chainsaw class as its 4 inch blade will make light work of all light pruning. So whilst you couldn't cut down a tree with this chainsaw it will speed up pruning work that you would have normally done by hand by a factor of 5. Basically it's 5 times faster than hand sawing or using 'loppers' and for that we love it.
Chainsaw Chain
The ¼ PM3 saw chain allows the owner to make smooth cuts with minimal vibration. 
Protective Chain Guard
The GTA 26 has a retractable chain guard to help protect users from accidentally coming into contact with the saw chain. This a key feature, as although 'only' 4 inches it's still a chainsaw and chainsaws are still dangerous if used incorrectly, regardless of their size. 
Removable Bar & Chain
After using any chainsaw you will have to clean it from any build up of wood dust and tighten (and sometimes loosen) the chain. The main issue with smaller chainsaws is the buildup of 'gunk'. The gunk is a mixture of chain oil and sawdust and it can clog up the saw at the back of the saw and cause damage if just left. 
So being able to remove the bar and chain on this Stihl chainsaw easily is a big bonus. You also won't require any tools to do this which is another bonus.
Ergonomic, Compact Design
It's got a really awesome rubber gripped handle which is easy to hold whether you are wearing gloves or not. This rubber grip is part of a development by Stihl that reduces vibrations which in turn makes it easier to use the device and reduces user fatigue. 
Trigger Lock Switch
For complete safety Stihl have implemented a trigger lock out switch so it prevents the trigger from being pressed and the chainsaw starting without the lock out switch being activated.
LED Lights
It has LED lights that indicate how much battery life is remaining in the device. 
Stihl GTA26 Warranty 
Stihl states: 'All STIHL axes, hedge shears, loppers, pruners, and pruning saws are warranted against defective material or workmanship until the product is no longer available while owned by the original purchaser (other than for purpose of resale), when used for all applications.'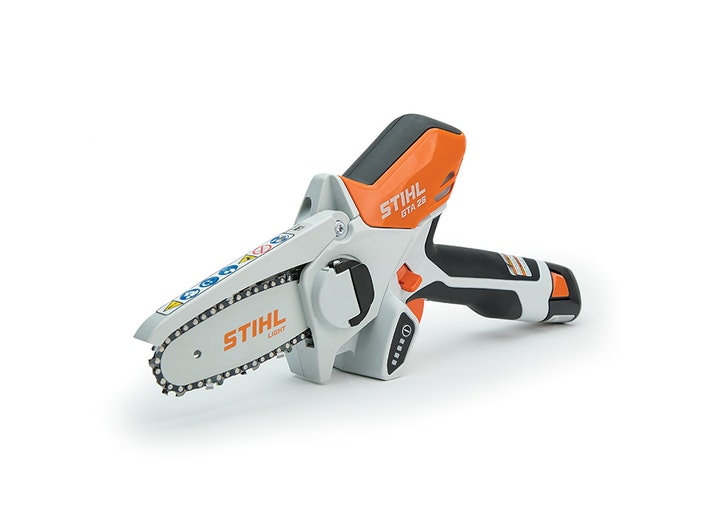 #5 Points Users Find Whilst Using The Stihl GTA26 (including me)
On small bits of wood it cuts really well and very cleanly. Just as you would expect from a brand like Stihl with decades of chainsaw chain research and development. But if you push down a bit too much it will 'bog out' and come to a complete stop. So be mindful to 'let the saw do the work' and not try to encourage it too much. This 'cutting out' did happen quite alot and it became a problem if the saw was midway through a piece of wood. As I then had to try and wiggle the saw totally free otherwise it wouldn't start again. 

The protective chain guard got in the way. Alot! It seemed to mostly be a problem when I was cutting horizontally but it also proved an issue when cutting close to anything else. As the guard would get 'hung up' on something and prevent me from cutting any further. Now to get round this I had to (and this is totally not recommended) pull the guard all the way back with my other hand which then allowed me to cut where I wanted. This totally defeats the object of having a safety guard, especially as I then had to have my fingers so close to the blade to pull back that guard. I did have no issue when cutting in open space and with this compact small saw it makes it easy to do things that would be more difficult with a larger chainsaw.

The battery life fooled me, as I think it does to everyone. Stihl states 18 minutes of run time. So that's plenty of work as it's not constantly running like a gas chainsaw but only when you pull the trigger – which is the beauty of going electric. And that 18 minutes of run time is accurate as I watched a video on YouTube of a guy holding down the trigger for 18 minutes straight till it ran flat. BUT when you are actually using it to cut wood (its primary use!) I got only 8 minutes of usage. Users on Stihl forums report anything from 7.5 mins to 9 mins is about average. And this will of course depend on what you are cutting. So this is a huge point to be made aware of. And OK, manufacturers do normally 'exaggerate' claims but at less than half the working time than stated, I thought this was a little rich and felt let down. 

What do you intend to use this for? As all the 3 points above tend to feed into this. This is a home use small chainsaw for pruning. It's not intended for cutting down large branches. When using it on bushes (like Holly), hedges and shrubs there was no problem. It also worked really well for pruning young fruit trees like Apple, Pear and Cherry. Basically anything that you would use 'loppers' on or pruning shear this will do in seconds hardly requiring any effort.

There is no automatic oiler on the Stihl GTA26. Meaning even more admin time needs to be spent on it. On larger chainsaws there is a reservoir that automatically drips oil onto the chain to keep it running and cutting smoothly. With the GTA26 you have to oil this chain yourself. Ok it's not a big deal as you don't cut much stuff with it and the chain is only 4 inches long but it's still another thing to factor in. The oil for this comes bundled in when you buy it so it's not a question of cost (although you will have to buy more when it runs out) it's just a question of the time to have to oil it up before and after each use.  
Last point to add about small handheld pruning chainsaws
There are several on Amazon all for less money than the Stihl and the Milwaukee, some even have fairly good reviews. But they aren't worth the money. They are cheap imports with brands no one recognizes. With unproven batteries and chains that won't stay as sharp as they don't own the patents in that space. So don't waste your money.
And just for the record, Bosch makes a handheld chainsaw but they don't sell it in the US. Dewalt makes an awesome battery powered chainsaw but the smallest they make though is 12 inches. Ideal if you are looking for something slightly larger and we review that here. (Husqvarna also makes the best 12 inch gas chainsaw).
Before you make your mind up you need to read a review of the Milwaukee Hatchet as nearly everyone (who has used both) agrees that it's slightly better for a few key reasons.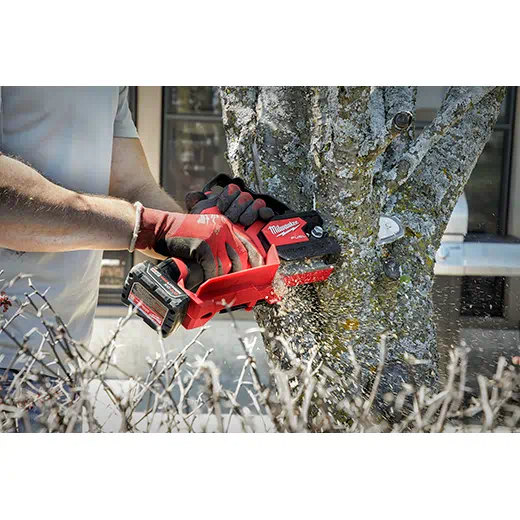 OK first thing to note is this chainsaw has a 6 inch saw versus the 4 inch saw on the Stihl GTA26. So we aren't comparing apples with apples as they aren't identical. But i'll come onto why for pruning and home use, a 6 inch is better and why this design is better too. 
Why Milwaukee?
Milwaukee makes the best handheld small 6 inch chainsaw for home use pruning on the market. It has a compact design and weighs under 5 lbs. So for a cordless saw this will give you maximum control and access to all those tight spots and it cuts with ease. 
The Design 
The M12 Fuel Hatchet gives you two places to grip whilst you are using it and two points of contact mean it's safer whilst in use. Being able to use both hands safely makes it easier to operate when cutting wood and this also reduces user fatigue, so cutting for longer requires less effort. 
It's also rear handled rather than top handled, so much safer for use at home as your hands are further away from the chain. Plus it has a chain guard on the top to even further protect your hands. 
Cutting Power
The 'M12 Fuel Hatchet' has the ability to cut 3″ thick hardwoods, which puts it head and shoulders above all other 6 inch saws. 
You will also get 120 cuts per battery cycle in 2 inch Oak! Which should be plenty for home use, as this should actually equate to a full day's work.
The Milwaukee M12 Range 
The saw is part of the 'M12' range of tools made by Milwaukee. This is cool as the batteries are interchangeable between this whole range, which boasts around 100 power tools. So if you already have some Milwaukee tools this will probably be the swinging point that makes you buy the saw.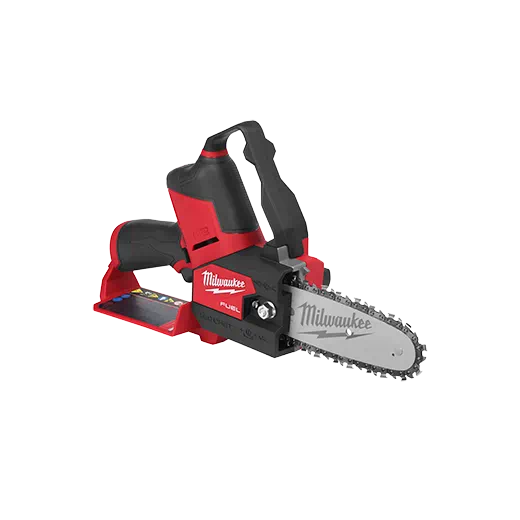 Key Features
Full house chain 

A chain tensioner that's easy to use and access

Automatic chain oiler (which the Stihl gta26 does not have)

Metal bucking spikes

Onboard scrench storage
Should You Buy A Small Milwaukee Chainsaw?
This chainsaw is part of a range of power tools from Milwaukee that features Li-Ion batteries and brushless motors. This chainsaw actually uses an Oregon chainsaw chain so expect serious cutting power for the size and the chain to keep its sharpness for longer than its rivals. 
Best Handheld Chainsaw: Stihl GTA26 vs Milwaukee M12 Hatchet 
Stihl GTA26
Working Run time – 7.5 mins (18 mins if you just hold the throttle) 70 ish mins to recharge.
Weight  -2.7lbs Stihl (add another .5lbs for battery) 
Everyone's no.1 complaint about the Stihl GTA26 is that you couldn't buy replacement batteries for it. That has now thankfully changed and Stihl now sells spare and replacement batteries for the GTA26. So that's the good news. The bad news is new batteries aren't cheap and dealers cant ship them, you have to buy them in store – seriously! 
Cost $180-$220 
Milwaukee 6 Inch M12 Hatchet
Working run time of 120 cuts in 2 inch Oak with the 3.0Ah battery but if you upgrade the battery you will get longer. 85 mins to recharge. But the bonus is the batteries can be used in 100 different Milwaukee power tools. Plus you can go to any home depot and get another battery for the Milwaukee or order them online. 
Weight – 4.1lbs